You invest only in companies that protect the environment, are not involved with tobacco or alcohol, incorporate progressive employment practices.

Does this sound like you? If your investment goals are to go beyond merely high returns and focus only on those companies that adhere to your personal values and beliefs, you might want to consider socially responsible funds. Socially responsible investing gives you an opportunity to put your money to work knowing that your values and beliefs are well represented.

YOUR INVESTMENT PHILOSOPHY

Socially responsible investing has gained popularity in recent years. According to the Social Investment Forum, there are now more than 60 different socially screened mutual funds to choose from, each catering to different values and beliefs. In addition to the typical financial objectives of a mutual fund, these funds must take into account nonfinancial criteria. But how do you define socially responsible? The answer depends on who you talk to. But just as there are many variations to this question, so are there many different mutual funds that meet the basic definition.

Mutual funds that qualify as being socially responsible focus on a variety of social issues ranging from environmental protection, pollution, civil rights, workers' rights, religion, smoking, drinking, gambling, animal rights, military spending, and with the growing popul-arity of the Internet, all the way to privacy issues. The Domini Social Equity fund invests in companies with positive records in community involvement, environ-ment, employee relations, and hiring practices. The fund rejects those that earn significant revenues from alcohol, tobacco, nuclear power, and weapons contracting. You will also find funds that cater to specific religious beliefs; for example, the MMA Praxis fund invests based on Anabaptist Christian beliefs.

With such a large variety of investment philosophies, finding a specific fund that most closely adheres to your personal and ethical values may require additional research, although you will usually find the fund's investment philosophy mentioned in the fund literature. In addition, there are several sources on the Internet that can help you find a fund that meets your specific criteria. Two such excellent websites are www.socialfunds.com and www.socialinvest.org. Both focus on providing the information necessary to help you identify an appropriate fund.

There have also been many books written on the subject, one of the most recent being Socially Responsible Investing by Amy Domini, founder of Domini Social Investments and one of the pioneers of the socially responsible investing movement. She is also one of the cofounders of Kinder, Lundenberg, Domini and Co. (KLD), the leading provider of research to institutions interested in investing based on social criteria. The firm developed the Domini 400 Social Index (DSI), a performance benchmark for socially responsible funds.

PERFORMANCE

Investing in a socially responsible fund doesn't mean that you have to make compromises in rates of return. In fact, if you read the investment objectives of the fund, you will usually note that the fund's focus is to invest in high-quality companies with the potential to generate high returns. A study conducted by the Social Investment Forum in 1998 found that on average, socially responsible funds beat nonsocial funds over the past three-, five-, and 10-year periods, although with this performance may come higher costs.

I've outlined four of the larger (in terms of asset size) socially responsible funds in Figure 1. Domini Social Equity (DSEFX) is an equity-only fund, whereas the other three are balanced funds that combine stock and bond investments. Figure 2 displays the performance of these four funds against the S&P 500. By investing in companies in the DSI, the Domini Social Equity fund has been able to keep pace with the Standard & Poor's 500 index.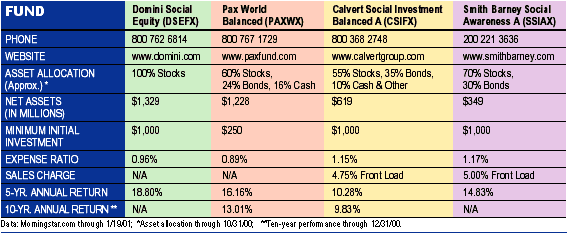 FIGURE 1: SRI FUNDS BY THE NUMBERS. Here are some investment details for four of the largest socially responsible mutual funds.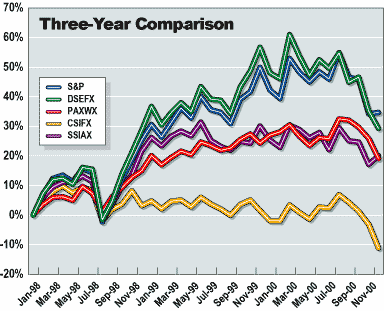 FIGURE 2: CHART COMPARISON. Look at how these funds stack up against the S&P 500. Many socially responsible funds are able to achieve comparable performance within their investment sector.

MONITORING
When you've made an investment, you'll want to make sure the investment's objectives stay in touch with your own objectives. Because of the social and ethical implications, socially responsible investments add another element to this monitoring process. The investment must continue to meet the social and financial demands as stated in their investment philosophy. With mergers and acquisitions taking place on a large scale, don't be surprised to find socially responsible companies merging with those who make no such claims. What is the fund supposed to do when confronted with such a situation? Will this new company be dropped from the fund, or will it remain? These are recurring issues when it comes to socially responsible investing.
Basically, socially responsible investing revolves around the following three criteria:
1 Screening
2 Community based investments
3 Shareholder activism.
Socially responsible funds screen companies based on specific criteria such as good environmental records, employee relations, workplace diversity, quality of products, and safety practices. They also promote community-based investment programs that provide capital to community development projects. Further, while the philosophy of the funds is generally one of activism, some socially responsible funds promote shareholder activism; they make proxy resolutions easily accessible to their investors. These resolutions are aimed at corporations to improve their social and ethical practices. It's a good idea to keep an eye out for all these changes.

CONCLUSION

There are many options available for socially responsible investing. Investing in a socially responsible mutual fund should be approached the same way as any other mutual fund. Determine what your investment objectives and goals are, do some research, read through the prospectus for each fund you are considering, and make sure the investment philosophy of those funds matches yours. Once you invest in a fund, stay alert to changes within the fund's holdings.

Socially responsible funds have proved that they can be a profitable investment. With the added social objectives, it may take a little more research to make sure that all of your objectives, social and financial, are being met. But in the long run, you will be able to invest with a clear conscience, knowing that your values are being well represented in your investment strategy.
Sean Moore can be reached at SMoore@Traders.com.

RELATED READING
Domini, Amy [2001]. Socially Responsible Investing, Dearborn Trade.

Masover, Hal [2001]. "Socially Screened Investments," Working Money, Volume 2: April.

Wherry, Rob [2000]. "The Cleans & The Greens," Forbes, June 12.

www.domini.com

www.morningstar.com

www.socialfunds.com

www.socialinvest.org