What's the secret to holding down costs in your organization? Not having to pay hundreds of thousands of dollars to somebody to outguess the market? Well, I guess there are really four sources for holding the costs down. One is holding down a fund's operating cost. The amount of management fees that a fund pays is a big part of that, and of course we operate at cost anyway, so we do not normally pay fees. There is no profit to an outside firm with the things we are doing here. So our job is keeping the operating cost of the fund, the expense ratio of the fund, at the absolute rock-bottom level.

You operate at cost? You still have to pay people. You still have to have computers. You still have to have the legal disclosures. Sure, but we operate Vanguard at a budget of close to $1.5 billion a year, and that is about 27 basis points on $580 billion. Those costs are apportioned among the funds, basically in relation to their net assets (Figure 1). So if a fund is 7% of our net assets, it would pick up 7% of those costs. But there is no premium in there. It is just cost. We all get paid, yes. This is not sackcloth and ashes.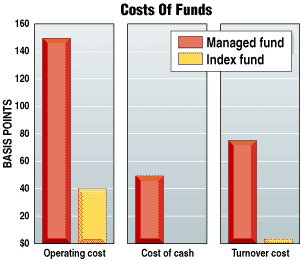 FIGURE 1: COSTS OF FUNDS. Costs are apportioned among the funds, basically in relation to their net assets. Note the comparison between managed funds and index funds.
You are getting paid market rates? Your people are not getting less than anybody else, are they? No, and I am doing just fine. We have a very nice incentive plan in which we are all rewarded in cash terms. There are no options or anything of that sort because there is no stock. Even so, we have the ability to have costs substantially below the levels of our competitors and outperform our competitive groups. So each year, we go through this cycle in our incentive pay. We are paid market rates, or probably less than market rates for senior management, because the incentives for the vast body of the company are market rates plus your share of this incentive plan, which is called the Vanguard Partnership Plan.
But the rest of us have an incentive based on our ability to keep cost below the competitors. For example, if we can operate at, say, 25 basis points and the competition operates at 105 basis points, we save 80 basis points. And if you save that on almost $600 billion, that is a savings to the shareholders of $4.8 billion a year. That is about what we save them. And a very small portion of that is put into this incentive plan.
What else? Second, each of our funds is evaluated yearly on the basis of its performance over the past three years, whether it is above average in its competitive group -- say, growth and income funds, or value funds if you will, or small-cap growth funds, or intermediate-term municipal bond funds. Each fund is awarded a rating -- average, above average, or below average -- for its performance relative to its peers and relative to market indices. That is usually about 20% of the incentive award. Because we are able to outperform -- not uniformly, nobody does that -- it probably contributes 20% to that total pool.
That is the at-cost part. It does include incentives. They are nothing like the incentives we would have if, for example, I owned Vanguard. I suppose I would be worth $10 billion. Well, to say my net worth is 1% of that would be too high. We are all comfortable with that. It is the system I set up 25 years ago, so I am happy with it. It works very well for the shareholders, who are the people we are supposed to serve.
The second cost is portfolio turnover. That is a detraction from returns.
Is that just from transaction cost, or is that also tax cost? That is just transaction cost. I am talking about the investment cost attendant to trading securities. That includes commissions, bid and ask spreads, block positioning cost, and the like. To the extent you can keep that down, you can minimize those costs.
What about the index funds? In the index funds they are very, very close to zero (Figure 2). We can do certain incentives instead of trading toward the end of the day with brokers, and that sort of thing. With the other funds, we have a very good reputation in all the statistical sheets we see -- the rate, the execution cost. So it is basically a low turnover policy. You are not buying a stock and chasing it. More likely, you might be buying a stock if it is going down. It is more of an opportunity technique rather than an in-a-hurry kind of trading technique. But our funds typically have low turnover, compared with the rest of the industry. This industry turns over equity funds at 90% a year, which I think is absurd! If you took everything into account, counting our index funds, we turn over maybe 20% to 25%.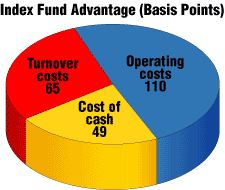 FIGURE 2: INDEX FUND ADVANTAGE. Index funds have an advantage over other forms of funds by minimizing costs.
Index funds must be even lower than that. Index funds are a lot lower. I put the whole bale of them together there. The Total Stock Market Index is probably about a 3% turnover.
What if you had a period when people were pulling their money out? Maybe they're dying, distributing estates, not accumulating money as fast, and you had to disinvest. Would you be faced with more turnover in your index funds? Technically, if you invest cash flow in and out, your turnover is zero. The formula says, "The lesser of portfolio purchases, and portfolio sales as a percentage of assets." So if you take the lesser, it would be the disinvestment. If you had outflow, the lesser would be purchases. In other words, you would be selling more than you bought.
Technically, that is turnover, but we have never had much of a problem. These things do not happen all at once or at least have not happened all at once. We are investing gradually day after day. It could conceivably raise costs, but I do not see it would raise costs any more getting out of stocks than it would raise costs going in if the patterns were similar, which we would expect they would be. So turnover cost is second in keeping the total cost down.
The third factor is opportunity cost. By that, I mean most mutual funds are not fully invested. They are typically about 93% to 95% invested. That means, over the long run, you are earning a cash return -- let's go with 5% -- in a market that's yielded 12% over time. For the sake of argument, that is a 7% opportunity loss multiplied by 7% of the assets; that's 49 basis points you have lost as an opportunity cost.
So looking at those three costs, the first one, the average equity fund, has about 150 basis points average operating costs. We think that turnover cost on average for the funds for these high levels are about 50 to 100 basis points a year on trading cost. Use 75 points as a middle ground as a reasoned estimate; that gets you up to 225. Then you throw in 49 basis points of opportunity cost and you are up to 2.74% of costs -- a hit against returns.
And the fourth cost? The fourth cost is sales charges that fund investors pay to buy in. We have none, compared to others in the industry; about two-thirds of the funds in this industry have sales charges. Depending on how long an investor holds shares, that could easily be half a percent to 1% a year for a longer-term investor. If you pay a 6% sales charge and get out in one year, it is obviously 6%. That's a big hit.
In a philosophical sense, it is clear and certain beyond any doubt that all investors share the total return of any financial market. Stock market investors get the stock market return. Bond market investors get the bond market return. Money market investors get the money market return.
Before cost, though -- Before cost. So it is a zero-sum game. Beating the markets is a zero-sum game before cost and, by definition, a loser's game after cost. There is no way around that. Therefore, it follows that if you own the market and can minimize these four costs, you can get 98% or so of the market's annual return.
So it is really one decision: to be in the stock market or not. Looking at the Total Stock Market Index Fund, you basically own every business in the United States and hold it for Warren Buffett's favorite holding period: forever. You will -- not may, but will -- get 98% of the market's return. Now, the average investor, when you take those one and a halfs and two and a halfs and so on, is probably going to get around -- certainly not more than -- 75% of the market's annual return. An investor in a managed fund, if the costs are 2.5% a year in a 12% market, is going to get 9.5%. It compounds (Figure 3).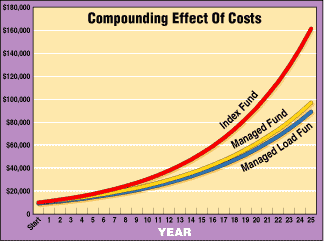 FIGURE 3: COMPOUNDING EFFECTS. Aside from whether a managed fund can outperform the market, its costs will inevitably drive it into under-performance as their effect compounds over the years.
Why do people go for this? Well, let me give you what it means, because otherwise that may not sound like much. It means if you invest at 12%, over 25 years you will get 17 times your money. If you invest at 9.5%, you will get almost 10 times your money. So $10,000 at 12% is $170,000, and $10,000 at 9.5% is $97,000.
That is a difference. Now, that's focused on the long term, on staying the course. It's focused not on shifting from growth to value, or large to small, but just owning everything and holding it forever.
I am the first one to admit some mutual fund investors will get more than 12% in the 12% market --
And some will get less. But as we know, the average is going to get 9.5% almost by definition. Your chances of getting more than 12%, beating the market if you look at a 25-year record in mutual funds, are probably about one in 33. So you have one chance in 33 of beating the market.
But by selecting mutual funds -- Now, I have to say I have already messed up my argument here, because there are really five costs. Let's take it after opportunity cost, because they come out of the returns before taxes. Taxes! Let's make that cost 4 and make sales charges cost 5.
And taxes are unbelievable in the mutual fund industry! It is the most tax-inefficient industry ever created by the mind of man. It really is. Taxes during this bull market the last 15 to 18 years have reduced your returns another 3%. So you have gotten about a 12% return in an 18% market.
To make matters worse, mutual funds realize about one-third of their gains on a short-term basis. They don't even hold the stock long enough to qualify for long-term treatment, so it is horrendous.
Why don't people recognize it? Why? The only thing I can say is first of all, we haven't always had markets that produced 18% a year. The higher the return, the higher the taxes. Mutual funds look relatively worse the higher the level of returns because of their activity. The high level of return costs a lot. So circumstances are unusual. You only see it in retrospect after you get those returns for a time but it is going to be a big problem, because even this year, with the market going a little better than nowhere -- a little tiny positive right now -- investors are going to get very large capital gains. Investors who bought in March and maybe have less money now than they had then are still going to get the capital gains, and they'll get the privilege of paying the taxes. I use the example of the casino. In the stock market casino, it is the croupiers who win. Put another way, where are the customers' yachts?
Why are the customers going for this? You have been at this for what, 25 years? Fifty!
Fifty for the index business? Well, 25 for the index business. And clients are going for that! At least you can say that our index fund is the biggest fund in the world.