Hey! You're working hard. Finally making money. You're about to turn 40. Time to buy some toys, right? Yeah! You deserve it. How about a boat? Maybe a nice little inboard-outboard with plenty of power to pull a skier, with a five-hp kicker for the times we want to go trolling instead. Yes!

Well, on second thought, maybe no. Before dashing off to the nearest boat store, you might want to think about what kind of vessel you want to be at the helm of in your retirement years. Though you are about to turn 40, you still have 25 to 30 years to go before retirement. That does not give the time leverage that you would have had as a teenager -- but then, you probably have more money to invest than you did in the days of your youth. Making up the time already lost is not an option. Improving your retirement outlook still is. When you quit dancing to the alarm clock's tune, you must have enough money still working for you so you can maintain the comfortable lifestyle you have come to enjoy.

ABOUT THOSE GOLDEN YEARS

At a minimum, you will need about 10 times as much in savings as you plan on spending per golden year. For example, if your current lifestyle takes about $100,000 per year, you will need a cool million drawing interest for you when you quit your job. If you think that $50,000 will get you by for each and every golden year, then you can probably get by with about $500,000.

BLAME CONGRESS

Until Congress gets around to allowing our Individual Retirement Account (IRA) contributions to catch up with inflation, we are pretty much stuck with the $2,000-a-year limit. I point that out because the real value of that contribution has eroded tremendously since the year it was set. The Employee Retirement Income Security Act (ERISA) of 1974 created Iras and set a contribution limit of $1,500 per year. A few years after that, inflation was acknowledged and the Economic Recovery Tax Act of 1981 raised the limit to the lesser of $2,000 or 100% of earnings and made all workers eligible.

Since then, there have been several changes to the rules covering Iras, but the $2,000 per year contribution limit has never been raised. In reality, that dollar cap has become an ever-lowering real-value ceiling, due to ever-increasing inflation. While the politicians in Congress generally, and last year the US Senate specifically, have pointed fingers and twiddled their thumbs, inflation ate more than 60% of the buying power of your retirement dollars. The years move by ever more rapidly, but our Ira contribution limit continues to be trapped in political quicksand.

BACK TO THE SUBJECT

But I digress. Where were we? That's right, you are nearing 40 and you want to buy a toy. Maybe it's a hot sports car. Maybe it's that boat I mentioned. Maybe it's something else entirely. Let's just say it's a "26-Grand, I-just-have-to-have-it Toy" -- a "26GIT" for short. Whatever it is, there are bound to be taxes and/or licenses and some kind of upkeep fees associated with it that will run the cost up to around $30,000 over the next five to 15 years.


Since my first article in the inaugural issue of Working Money, I have advocated the full funding of an IRA every year. Further, it has been my contention that the Ira funds should be placed in an investment vehicle that earns at least a 10% return. Using those guidelines as a basis, let's trade that 26GIT and expenses in for the equivalent amount of deposits in our IRA. While we're at it, let's compare the inflation-ravaged $2,000-per-year contribution to the $5,000 per year it would be today had the yearly IRA contribution limit been allowed to keep up with the cost of living.

Now, suppose you start saving on your 40th birthday. Funding your IRA for 15 years at the current $2,000 limit, it'll take 15 years to save $30,000. Funding your IRA for 15 years, and then letting it continue to grow at 10% until you hit 70 and retirement, will result in the 26GIT growing to a $291,987 nest egg. By itself, that amount will not support a lavish retirement lifestyle, but it will add more to that end than a nest empty of any eggs at all except for a worn-out sports car or a leaky, aging boat. In addition, if you were to form a habit of fully funding an IRA each year, and continued doing so (beyond the 15-year period) from your 40th birthday up until, but not including, age 70, the nest would be even fuller. You could begin retirement with $361,887.

Now look at an IRA funded on your 40th through 45th birthdays with $5,000 per year. It would take six years instead of 15 to save the $30,000. Should Congress make that contribution possible at long last, at age 70 the same funds invested, in lieu of 26GIT and expenses, would then look more like $417,994. (See Figure 1.) The same amount of money, invested at the higher contribution limit, would return about an extra $126,000! Once more, assuming that you got into the habit of funding your IRA at the $5,000-per-year limit and did so till your 69th birthday, you would then have $904,717 before retirement begins a year later. Even with a late start, you would be sailing into retirement on a much more stable craft.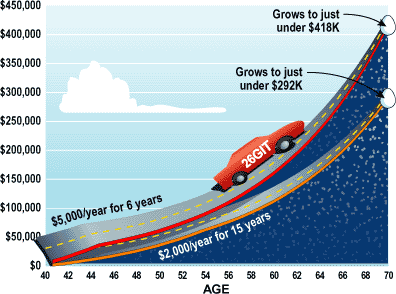 FIGURE 1: 26GIT. Using $30,000 to fully fund an IRA instead of buying and maintaining that 26GIT could provide a nice nest egg. This is especially true if Congress finally -- finally! -- lets your yearly contribution limit catch up with inflation.

And here's another note on the bright side. Most of the bills that have been introduced in the House of Representatives to raise the Ira contribution limit will allow those over 50 to put in 150% of the contribution limit to compensate for what has been lost to inflation or lack of funds in earlier years. Any way you look at it, even though you are behind where you might have been, starting at 40 is better than not starting at all.
GO TO THE TOY STORE AND THE BANK
With all that in mind, you've still worked hard and deserve to buy yourself a toy. So go buy one, but make sure you have enough left over to fund your IRA. If the boat, car, or other toy is a couple years older and therefore less expensive, you really won't notice it that much, and when you start spending that extra income in your retirement, you'll congratulate yourself with every trip to the ATM!
PESTER YOUR REPRESENTATIVE
Finally, if the IRA contribution limit has not been raised by the time you read this, by all means, contact your Congressperson and Senator and pester -- well, encourage -- them to give us a chance to put a brighter shine on our golden years. Chances are that their physical addresses can be found in your local phonebook. If you have access to the Internet, you can find contact information at the following websites:
Senators:
http://www.senate.gov/contacting/index.cfm

Representatives:
http://www.house.gov/house/MemberWWW_by_State.htm
Bruce Faber can be reached at BFaber@Traders.com.

RELATED READING

Faber, Bruce [2001]. "How To Save $13.25 Per Mile. Really!" Working Money, Volume 2: January/February.
_____ [2001]. "The Bill That Didn't Pass," Working Money, Volume 2: April.
---

Copyright © 2001 Technical Analysis, Inc. All rights reserved.