CBS MarketWatch (http://cbs.marketwatch.com) claims to be the most-visited financial news and information site on the Internet. The website is the product of CBS Broadcasting and Data Broadcasting Corp., so its strong news orientation and large number of analytical tools should come as no surprise. Recently, the site was updated to include enhanced navigation tools with content divided into "channels" and "subchannels" and additional features, such as a more powerful portfolio channel and in-depth research.

HOME PAGE

To enhance navigation, the homepage has tabs (that is, "channels" and "subchannels") and underlined links across the top. To display additional topics, touch your pointer on one of the links. Every page includes a site index, which is very helpful for a site that contains as much information as CBS MarketWatch does.

A quick glance at the home page reveals that MarketWatch is news-oriented (Figure 1). MarketWatch uses six news wire services as well as its own staff. As you visit other sections of the site, the strength of the news orientation becomes evident; news headlines are attached to nearly all the information.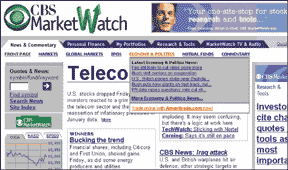 FIGURE 1: CBS MARKETWATCH HOME PAGE. Channels and menus have improved navigation.

News Finder, which can be found on the home page, provides four timely news categories: top stories (longer stories written by MarketWatch staff), market pulse (often one- or two-paragraph wire stories), newsmakers (changes in top management), and company releases. The fifth News Finder category, search, is especially helpful to keep you aware of news that might have caused abrupt changes in stock price. Suppose a stock had a significant price change and you want to find out why. You can search by ticker symbol, date, and news service to find out what triggered that change.

I especially like MarketWatch's flexibility. After digesting the news, you can monitor your own portfolio performance or market performance. You can examine a stock's performance fundamentally and technically. You can also examine the annualized, quarterly, or quarterly compounded income, balance sheet, and cash flow for each stock.
RESEARCH AND TOOLS
The Research and Tools page identifies a number of tools, as well as Market Overview. There are icons for special features, such as interactive charting using BigCharts, a popular charting website that MarketWatch purchased; Hot Stock Tracker; Portfolio; and CBS MarketWatch Alerts.

Among the site's most impressive recent improvements is the information display. For example, Market Overview displays charts that visually compare the major indexes in each of the major world markets (Figure 2). It also includes a currency comparison. Click More in the Market Screener window to see US market movers. Some additional features are: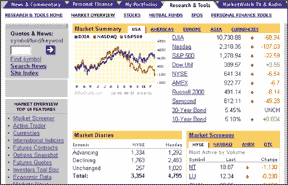 FIGURE 2: MARKET OVERVIEW PAGE. Market Screener allows you to screen on a range of criteria.
Hot Stock Tracker -- This is a separate window you can create that contains stocks you want to follow during the day. Since it is a separate window, you can move, minimize, and size it (Figure 3).
Intraday Stock Screener -- Use this feature to screen stocks up to the last five minutes before the market closes. You can screen stocks by price change, volume, and performance relative to 50- or 200-day moving averages. You can then customize the view of the results to fit your needs.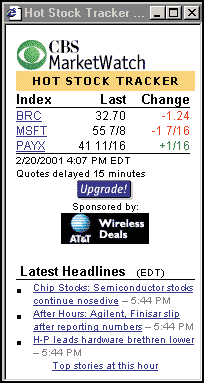 FIGURE 3
PORTFOLIO
It's easy to create your own portfolio, or several portfolios, including your Hot Stock Tracker portfolio. After you set up your portfolio, evaluate it using the following tools:
Analyzer, which gives you the means to compare your stock to a sector or market
Allocation, which gives you a chance to look at asset classes
News, one-line headlines, which allows you see what the most current news is that is affecting the market
Insider, which allows you see what company officers are doing
Financials, which is a breakdown of financial data by Thomson Financial Solutions.
Information is available on future earnings per share, but to find it, you need to open the analyst estimate section under the stock subchannel of Research and Tools.

Asset allocation doesn't provide money market or bond performance, which could be helpful. Bond information is available elsewhere on the site. Go to Research and Tools, then Market Overview, then Market Monitor.
MUTUAL FUNDS
The mutual fund feature can be found on the personal finance channel (tab). In addition to the news, it provides details such as fund profile and performance. Using the charting capability, which MarketWatch incorporated with their acquisition of BigCharts, you can compare the performance of funds over different time frames. Studying the details of the fund from the profile and charting fund performance will give you a better idea of a fund's potential risk and reward.

MarketWatch also has an extensive archive of fund manager interviews that provide information on specific fund managers. Since mutual funds are generally not as volatile as stocks, there is less need for quotes, analyst upgrades/downgrades, breaking news, and other time-sensitive information. Instead, MarketWatch offers an information archive and emphasizes an analysis approach for funds.
OTHER
The MarketWatch TV and Radio channel has TV and radio clips, which can be replayed using software packages that you can download free of charge. There is also a calendar feature, which I have used for some time. Even though the calendar information is not unique to this site, it is presented clearly. The weekly calendar displays the release dates for important economic indicators for the current and upcoming week. The economic calendar compares market estimates and CBS MarketWatch estimates to expected economic numbers.

MarketWatch can alert users to breaking news, but not price alerts, by e-mail, mobile phone, Palm VIII, Pocket PC, Omni Sky, and Internet connection. But I have used alerts on other sites in the past, and they don't work all that well. Your e-mail inbox can fill fairly quickly if you don't keep up with your alerts or e-mail inbox.
SUMMARY
I still use MarketWatch as my primary financial news source. I especially like the feature articles. When I am ready to buy a stock, I routinely visit the site to verify that there are no negative news stories (unless of course I am making a contrarian play). CBS MarketWatch is a robust financial news site with many useful tools.
---

SCORING CBS MARKETWATCH

What's the best way to get the information you need? When evaluating an Internet site, compare the Internet's advantages and disadvantages to those of other information sources, such as print and television. Then choose a site that incorporates as many of those advantages as possible. An excellent website combines the best features of all three media.

What does CBS MarketWatch have to offer? Let's take a look.

Easy navigation: The site is easy to navigate because each page has a variety of links to other pages and your path to your current location is always known. To access the helpfile, you will have to scroll to the bottom of the page and click the help link, which will take you to another window.

Timely information: Access to the news services, analyst upgrades and downgrades, and television clips is prompt and useful, but you cannot get a real-time streaming quote or price alerts, only news alerts. A 15-minute delay ensures that what you are seeing is reasonably accurate, but it is a handicap to some types of trading.

Ability of the user to manipulate information: You can't add trendlines to the charts and it doesn't provide details about the indicators. The addition of Thomson Financial Solutions is excellent, but stock screening is about 100 items short, so it's not that helpful. There is no calculator for bond yield-to-maturity (YTM) or price-to-earnings ratio (P/E) divided by growth (PEG).

Archives: News and mutual fund archives are helpful, and through BigCharts you can chart stock or mutual fund history. However, they should include historical price-to-earnings ratio (P/E). The site doesn't include topical searches, although you can search out ticker symbols, and its glossary doesn't explain enough or in depth.

Meaningful content: The content must be supplemented with additional data. Investment does involve timing to some degree, even though dollar-cost averaging mitigates much of the problem. Sectors and stocks become oversold or overbought on both a fundamental and technical basis. Without being able to compute a projected price based on historical P/E and projected earnings per share, adjustments for taxes, and so on, investment is riskier.

---
Dennis Peterson can be reached at DPeterson@Traders.com.
---

Copyright © 2001 Technical Analysis, Inc. All rights reserved.