Is it much of an issue for you when you have a small-cap company that is making a predominant amount of its sales to only one larger company or arena? I'm thinking of that Boeing example you gave. That definitely is a factor in determining the valuation and what we're willing to pay for it. If it's a viable product, you have to dig a little deeper and ask: "What product at Boeing is this part going on? How easy is it to produce? Can anybody in the world just stamp out these widgets, or do you have some sort of competitive edge or patent protection or something else that makes you a little more special?" You try to dig deep and find out how good the company's relationship is with Boeing. You find out if there's any contract. You have to factor in all of that.

Are there managers who tend to stick with certain types of companies because of their personal inclination or background? Do you think there are managers who are particularly adept at investigating small-caps as opposed to large-cap or micro-cap companies? There are definitely differences between asset classes. In my case, it's just something I enjoy more. I consider it more of a discovery process. As new companies go in and out of the universe, you learn more about how things work, as opposed to something like Boeing or Ibm, where everybody knows what they do. There are companies in the small-cap universe that many people have never heard of. I enjoy that part of the discovery process, which is why I stay in the small end of the spectrum.

You work with a partner, John McClain. You're both money managers. How do the two of you work together? Are there areas of strength that complement each other? How does that work? John is actually more of a growth manager and I'm a value manager. We get together. We have an asset allocation decision that we make. We meet fairly regularly, but for the most part, we go our own ways. He controls the growth areas and I control the value areas, in the context of the full portfolio. That's how we build our portfolios.

Did you discover your inclinations and management styles in the course of working together, or were your differing approaches the reason for the partnership? That's the reason for the partnership. It's kind of a core product, but we wanted the best of growth and the best of value. That product actually predates me here at Invista Capital Management. I like the way it's run, but I inherited it.

When selecting a company, do you look for the company first and then the industry or sector, or is it the other way around? John and I both focus on security selection - building portfolios from the bottom up. We may incorporate some themes into the portfolio, for example, overweighting an area that we think is going to do well, but finding the best stock to add to the portfolio is our primary focus.

In the time that you've been a portfolio manager, have you seen common mistakes that average investors make when investing in mutual funds? Have you noticed things over the years that investors need to be more careful about? There are a few things. When you're in this industry, everybody wants a stock tip and has a question for you. Individual investors often forget, and I think I alluded to this earlier, that the market is a forward-looking mechanism. For example, the investors may hear about a product or company that's coming out and say, "That's great, I'm going to buy this stock." It's probable that the market has already built the expectations for that product into the price. When the product actually comes out, it may not be well-received. Maybe the expectations were so high that the stock will actually go down on that news.

It's the adage of "buy on the rumor, sell on the news." You forget that the market is forward-looking and that unless you're paying close attention to the current valuation and understand what's built in, it may not be a good time to buy a particular stock.

It's similar on the fund side. People tend to chase performance. They forget that every place you see a fund advertised, it says, "Past performance is not indicative of future results." There may have been some short-term reason why a fund did well, as opposed to a long-term positive track record. Very few funds have succeeded through time, and those who have invested in them have been rewarded. But a lot of people chase after short-term performance.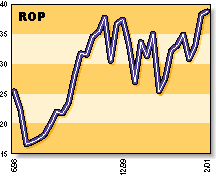 ROP: Roper Industires, a diversified industrial-controls
company, reached a 52-week high in late February 2001.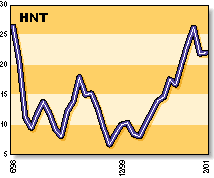 HNT: HealthNet, an integrated managed-care
corporation, manages both HMOs and PPOs.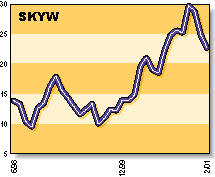 SKYW: Sky West provides regional airlines service
to a number of Western states as well as provinces in Canada.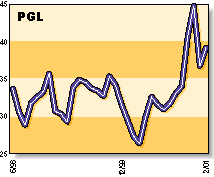 PGL: People's Energy, a holding company, manages
unilities subsidiaries in Chicago and northeastern Illnois.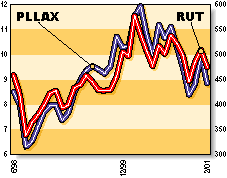 PLLAX and RUT: The Principal Small Cap Fund, Class A shares
(PLLAX), compared to the performance of the Russell 2000 index
of small-cap stocks (RUT).
Given some of the ups and downs we had in 2000 and the fact that a lot of the investors in the market now are relatively new and maybe haven't seen too many stiff downturns, do you have any sense of people in general shying away from the market? I haven't seen recent numbers. I definitely think people have shown a lot more resilience than I gave them credit for. Looking back on the last year or so, I thought most people would say, "Gee, we're up a lot and this thing is starting to crack; I'm getting out." Generally, they've been very resilient. During the last couple weeks, equity flows have been negative, so maybe it's starting to get to them now.
From your economics background and your perspective as a money manager, what do you think we might see in the markets coming out of spring and heading into the summer? I think the economy has clearly slowed. My guess is by the end of April or going into summer, it will still probably reflect a general slowdown. We're coming off a 10-year expansion, and I think it's going to take more than a month or two to undo that or bring us back to a more normal growth environment. Sometime this summer, we will probably have some level of tax cut, which may or may not ease at least individuals' minds, if not their wallets. I think we'll be looking forward probably to a late 2001, early 2002 recovery, but I don't think we're going into the depths. I don't think we'll have a dramatic slowdown, but I think things aren't going to be as great as they could be.
Is there economic news the average investor should be looking at to get some sense of how things are doing? What do you think is worthwhile to pay attention to? Consumer confidence has been the biggest driver of the economy during the last couple years, and it really needs to continue. People have been amazingly resilient, even in the last couple months. We've read about hundreds of thousands of layoffs in the last three months, yet people continue to spend. As long as they remain confident that they're not going to lose their jobs and continue spending, we'll stay out of recession. Not only that, the global economy has become more interrelated, so the business managers' confidence is another major driver.
You wouldn't put the fed funds rate in the group of things to watch for? Fed cuts typically take six to nine months to make an impact, so we'll probably start feeling the January cuts in the summer months. I think the rates will be lower in April than they are now. The March cut should be felt in the autumn months, and if there's a May cut, later still. But that depends on how the consumer reacts between now and then and how we chug along.
If you were to pin down some things that you enjoy most about managing money, what would they be? You mentioned the discovery process with small-caps and some of the rewards you feel there, but I imagine this could be a stressful job for the wrong person. It is quite stressful, but I'm always trying my hardest, and that makes it a little easier. It's a discovery process. I'm putting together a portfolio based on the way the world is going, or at least the way I think it's going. I try to find good companies and good industries and put them all together in a way that makes sense. It's like putting together a jigsaw puzzle.
Were there things about managing money that turned out as you had hoped they would before you were involved? Yes, I think so. I'm happy with what I do. I love it. A lot of people can't say that. Given that I started so young, there certainly was a lot of opportunity for me to have miscalculated. But so far, at least, I really enjoy it. One thing that drew me to this industry is the constant learning. Many people get in some rote job and constantly do the same thing. I'm lucky in that every day is different for me.
What about some of the surprises? Are there things you hadn't anticipated? There are always things that are your less-favorite things to do. But overall, it's been great. Maybe one too many meetings a day. Other than that, it has surpassed my expectations.
Thank you, Tom, and good luck.
---
Copyright © 2001 Technical Analysis, Inc. All rights reserved.