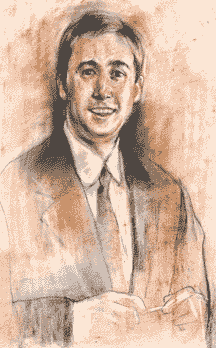 As far as stocks go, it's most important to understand the risks and whether the risk associated with investing in stocks works with what you're trying to accomplish.
As the chairman of the Investment Strategy Committee for Rydex Funds, what kind of responsibilities do you have? The committee is responsible for the oversight of our funds on a daily basis. The committee meets formally three times a week. We have formal performance reviews, and we are also involved in making investment policy decisions for the funds. We also oversee product development activities. As committee chairman, I'm responsible for driving the agenda and leading the other members of the committee to make sure we're covering all the important topics. As far as the investment process goes, we are directly involved with all the mutual funds managed at Rydex.
How are the funds themselves managed? We've segmented the funds into two distinct areas, the sector fund group and the benchmark fund group. The group leader or senior portfolio manager for each area reports to me. Most of our funds are team-managed, but we do have some with named managers. One of our strong points is that we play off one another to find the most efficient solutions and to improve our investment process. The Investment Strategy Committee is responsible for making policy decisions and reviewing the performance of fund management teams. The portfolio management teams are responsible for the daily operation and successful management of a particular fund by making sure it's meeting its objectives -- matching its benchmark returns, for example.
Is there any philosophy or overall investment approach that governs Rydex as a fund family? Yes. At Rydex we manage our funds using quantitative methodologies, which means we take a highly structured and disciplined approach to investment management. Our goal is to keep the funds fully invested at all times. We don't try to call the market by raising cash. We try to minimize risk relative to specific benchmarks while incorporating strategies to outperform them over time.
What makes quantitative money management different from any other kind, aside from not calling market direction? Quantitative money management is a highly structured, generally nonbiased method of managing money. It's based on mathematics, as opposed to more subjective, "kick-the-tires" stockpicking type of management.
Is there any tire-kicking in the process? Not in the traditional sense. From a research standpoint, we are very well informed. We have a lot of information coming to us such as the business models of companies and so forth, but we're not stockpickers. We don't have fundamental analysts who are trying to work the numbers and determine the growth rate of particular companies. But we're not completely passive in our approach, either. We don't merely buy whatever's in the benchmark. We just fall closer to indexing than fundamental analysis or stockpicking.
Was there an ideological reason for pursuing a quantitative approach as opposed to a fundamental one? We're not out to judge different approaches to investment management, but we do try to play into our strengths. When we started the firm back in July 1993, we recognized that it would be difficult for us to replicate something that, say, a Fidelity fund manager could do. We would have had to hire dozens, if not hundreds, of analysts to perform fundamental analysis on a select universe of stocks. That simply was not practical. We decided that by taking a more passive approach -- but not entirely passive -- and finding ways to add value, we would have much more success. So we gravitated first toward an index-based, then quantitative-based investment style.
Is that style the best way to invest? I think all different approaches to investing are potentially appropriate. There's an ongoing debate over active management versus passive. That's a debate that we can certainly tune into. Over time, you're probably better off in a more passive vehicle, because active managers can't generally outperform the benchmark consistently. Every now and then, you'll find something unique, but on average, it's going to be more of a losing proposition. From an academic standpoint, we naturally gravitate toward passive management techniques.
Could you tell us about the Ursa fund and how you came up with the idea of launching what seems to be a bear market type of fund? I wouldn't characterize Ursa as a bear market fund, and I'll tell you why. The fund is useful for a lot of different strategies. One of them, which is important not to discount, is that it gives investors the opportunity to hedge.
Why is that important? Because typically you're going to want to hedge when things are a little more exuberant than you're comfortable with. That would suggest that as the market was climbing rapidly, certain investors -- and we've witnessed this with our shareholder base at times -- would move a portion of their money out just so they can say, "Hey, I'm going to lock in some of this gain, just in case." When that happens, it's time to take a hard look at a fund like Ursa.
The other side of the coin, of course, is when things are in a downward trend. The Ursa fund is useful when you're speculating a bear market scenario. Putting the fund into a box that only works in one market environment detracts from its usefulness. This is the reason Rydex has 31 funds and an extremely flexible exchanging policy. We have funds for every market.
You talked about these funds becoming particularly attractive when you reach exuberant points in the market. Was the idea for Ursa to serve as a hedge fund? Yes, in a way. When we approached it, our founder, Skip Viragh, conceptualized Rydex Funds as a family of mutual funds that catered to the needs of investors. We were specifically targeting the registered investment advisors (RIAs) or institutional investors who used mutual funds to manage client assets. But over time, we found that we had a good retail following, so we ended up not only catering to institutional needs, but also to a number of more sophisticated retail shareholders, who have used our funds to have more flexibility in their accounts. We've seen retail shareholders using an Ursa fund to hedge against a potential downside in the market without having to sell out an entire long position. We've also seen investors use these funds as a tax strategy, or to avoid creating a taxable event.
What about the strategy of the inverse correlation to the Standard & Poor's? Is that an example of what you were talking about before in terms of the quantitative approach as opposed to the stockpicking approach? Yes, it is. Betas, alphas, and correlation are part of quantitative money management. Our benchmark is a -1 beta, if you will, or an inverse correlation to the S&P.
Do you use other investment products to pursue that strategy? Absolutely. Especially with the Nasdaq 100, or in the case of the Ursa fund, the S&P 500. There are so many different opportunities to gain exposure or short exposure to that index, whether it's futures, options, stocks; our investment model incorporates everything possible. We determine what the most efficient means are at any given moment in time to achieve the exposure we desire. We bring to the table the ability to make sense of all the dynamics going on. At any time, futures could trade at a significant premium or discount to the underlying stock, or vice versa. It's a dynamic model.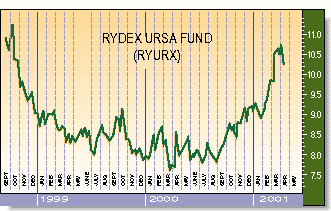 Rydex Ursa Fund (RYURX)
So you're accommodating playing with options and futures in a format that's less active than most funds that take advantage of futures and options? Right. We're not predicting market direction. Let's say you break up the world into relative return strategies and absolute return strategies. A relative return strategy means your investment is structured to act and perform like its benchmark. In an absolute return strategy, you are purely performance driven. That is, you don't evaluate your returns based on anything other than the absolute performance. We tend toward the relative return side of the fence.