Is investor psychology a major factor during a correction? No, it's actually quite minor. For instance, there are a lot of investors who haven't pulled out of the tech funds. Their assets are down in the tech funds, but we're not seeing a torrent of money flowing out. We value guys may be a little unrealistic on this point. The difference is with a fund like Janus or Putnam, so much of the money is in tax-deferred instruments such as 401(k)s and IRAs, which people view as more long-term.

So what do you think people should do? We still think people should have downshifted more in terms of their risk profile than the evidence suggests. There are many who want to get even before they reduce their risk profile or get out entirely. It's hard to say when the other shoe will drop. It's like trying to say why the Nasdaq peaked last March 10. There's no proximate cause we can point to, such as a change in interest rates or some world event. Changes in investor psychology tend to happen fairly randomly at first, and once it becomes more socially acceptable, it becomes a major move. But we're not there yet.

Looking at the fund, let's talk about your stock selection process. Do you use a bottom-up approach where you look at the companies first? Yes, we do. Our three basic premises are: Invest with companies whose managers view their shareholders as their partners; buy the stocks of those companies at a significant discount; and invest in companies whose intrinsic value has a positive growth associated with it.

Our process is bottom-up. Our analysts do some screening, but we stress looking at corporate change or getting hold of new information that has to do with valuing businesses. It's not Wall Street-derived; it's always derived from people in business. We may hear a tentative transaction announcing that X is buying Y. We look at the price implied in that transaction and study it to see if it makes sense. This helps us understand what's going on better.

Can you give us an example? When Quaker Oats (OAT) bought Stokely, the company that owned Gatorade, we didn't understand how they could pay so much for Stokely. The head of Quaker Oats eventually told us after we had gone through half of his staff and hadn't received a satisfactory answer. He got increasingly frustrated because nobody in the investment community could grasp a concept that seemed so simple to him. He said, "I have a national distribution system for packaged goods. When I can acquire a strong regional brand, I can expand its distribution through my system at virtually no additional cost. The price it makes sense to pay for a good regional brand equals its annual sales." To him, that was just as obvious as could be. But to the investment community, it was a new concept.

When was this? This was 16 years ago. Since then, we have studied the food industry more broadly. We looked at a lot of regional and national companies. They were priced anywhere from a low of 30% of sales up to 78%, 80% of sales. We bought a lot of them and they just kept getting taken over. Something as simple as a CEO's throw-away comment can inform us about what's going to happen in a way that Wall Street isn't able to do. We're always looking for these kinds of measuring yardsticks that we can apply to public companies.

Do those yardsticks alert you to a company to watch, or are they the catalyst -- the thing that tells you to buy? We have to have management in place that we can trust to serve our shareholders' interest, and we have to believe that the intrinsic value is growing. But yes, it helps us with the first thing, which is the intrinsic value per share of a company. Let me give you another example.

I went to a separate-account meeting in December. The clients were worried at that point, even though we were having a fine year for them. One of them, a minister from a town in Virginia, asked what the riskiest stock in the portfolio was. I told him the riskiest security was our holding of JC Penney (JCP) common stock. He almost fell off his chair laughing. In his rural community, JC Penney was still associated with motherhood and apple pie. It hadn't caught on where he was located that Penney's had lost a lot of market share and money. The stock had peaked at around $80 and was down to a low of $9. It sounds like a technology stock, except it's a name many of us grew up with.

What was the catalyst? The catalyst that got us into JC Penney was a change in management. They announced that Allen Questrom, with whom we had some previous good experience, was going to be the new CEO. That really got our attention, because this is a guy who had done a superb job of reinvigorating Federated Department Stores (FD) in the past. So we decided to find out what he saw in JC Penney -- at that point, the stock was at 16 or 17 and still going down.

What did you find out? We found that Penney was as bad on the department store side as we thought it was. About four years earlier, they had bought Jack Eckerd Drugstores. To most people, the drugstore business was considered very good. A chain like Eckerd that started in Florida and had good Florida real estate couldn't be so bad, right? But after Penney's purchase, a lot of good people left Eckerd, the company started having operational issues, their shrinkage had gone up, and their margins were poor, despite the fact their same-store sales were going up.

So there were conflicting signals. When we got into it further, we were lucky enough to have a meeting with Questrom. He explained some of the problems with Eckerd and said they could be fixed. We did some work and decided that Eckerd was worth, at a minimum, $10 per share. If its problems could be fixed, as we believed it could, it would probably be worth more like $20 per share. That creates our margin of safety, because that's a business we know will continue to exist. Their balance sheet was in decent shape and they brought in a guy to fix Eckerd, whom we also respect.

The intrinsic value case was strongest in terms of the drugstore business. The whole thing is bolstered by the fact that we think a change in the CEO of the department store business will fix the problems, or at least not make them worse. This is a stock that could go to at least $30. We started buying at $14 and averaged down at $9, which made our average cost around $12. It's $16 today as we speak. Not much has happened to the company since we bought the stock, but Eckerd does look better.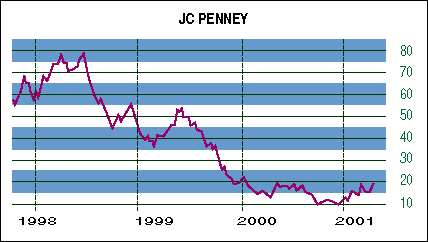 That's certainly an argument that the stock has bottomed and is building a base. These are the kinds of things we look for. One other nice thing from the standpoint of my fund is that this company has a big dividend and is supported by their cash flows. We can also get, say, a 5% yield on our cost, which is a nice thing to add into the total return picture. With that kind of dividend yield, the stock doesn't have to do as well.
You talked about intrinsic value. Can you explain what the term means? It refers to the amount someone would pay to own the entire business and get a fair economic return on that business. Different businesses have different parameters or measures that would produce that outcome, because they have different growth rates. It's a squishy concept but tends to be fairly hard in principle.
Some businesses don't lend themselves well to that kind of analysis. A simple one in the portfolio is Nova Corp. (NIS), which is the third-largest credit card transactions processor. In the 1990s, transactions took place between 15 and 18 times EBIDTA (earnings before interest, depreciation, taxes, and amortization) or pretax earnings, as the business migrated from smaller entities or from banks to the consolidators. It's a high multiple, but that was the price that was typically paid because it worked economically. They could be added to existing computer systems and overhead didn't go up very much. Your payback period on an investment of that type was comparatively quick, because there was so little cost attendant with it.
What was the deal with Nova? With Nova, we were buying the stock after they had made a bad acquisition and had some earnings problems. I think our cost is around $12 and the stock is $19 as we speak. If you just look at Nova's core business, at its low it traded at a quarter of the upside valuation. If you assume that the bad business can be wound down, you had a stock that was trading at a ridiculously low price relative to the industry's opinion of its intrinsic value.
Again, intrinsic value refers to the fair economic return if you own the entire business. It's what somebody would pay to own the entire company if they could never sell it again. That's one of those disciplines we have. We don't want to think in terms of the greater fool theory -- if I buy it, can I find somebody else who will pay a higher price for it? We want to think it is a good decision if we were stuck owning it forever.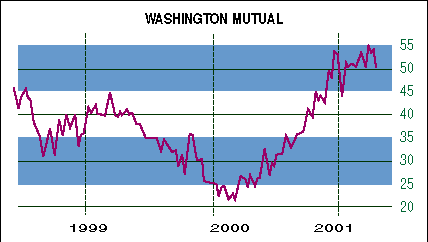 That's an interesting way of looking at it. Is the timing of purchases something you concern yourself much with? We value guys are probably an embarrassment to our industry in terms of our abilities as timers. If I ever buy anything right at the bottom, I think I'll retire at that point, or maybe a year later, when I've figured it out. We never know when the thing really bottoms.
When I first started at Harris, one of our founding partners, who has long since retired, was the best I ever saw at buying at the bottom. But he also only ended up being 60% invested at the peak. He left a lot of opportunities on the table because he just barely missed them. He was running a partnership. It was a hedge fund, except it didn't ever go short. He was the biggest investor in his partnership, so he could afford to risk being underinvested all the time.
The products we're involved with today on the mutual fund side are a little different. With a mutual fund you've got money flowing in and out all the time, so you have to get acclimated to the fact that your tactical decisions are going to be less than optimal. Your strategic decisions and your adherence to your strategic perspective have to be as optimal as you can make them, but tactically, you're going to get in too early.
What we don't want to do is to buy Penney at $15 and decide at $9 that we've made a real mistake and get out. We do make those kinds of mistakes, but I can't think of anything in the last year where that has been the case.
Do you make revisions in your portfolio on occasion? In my early days as an analyst, I recommended Tonka Toys. This was back in 1982. Two weeks later, I said, "You know, I think we're making a mistake." We got out. Fortunately, we only owned about 10,000 shares, so it wasn't a big deal. There are very few experiences in the history of Harris Associates where we've done something like that. Our goal is to get comfortable with the true business value, or intrinsic value, or private market value of the business we want to invest in. If we start buying Penney at $12 and it goes to $9, we've got to have the confidence and courage to keep buying it on the way down.
There must also be times when that confidence has paid off. Yes. Washington Mutual (WM) is a good example. We started buying it at $36 two years ago. By February 2000, the stock was down to $22. We were just beating our heads into the wall, wondering what the problem was. The company was going to earn almost $4 a share, we liked the management, and they were doing interesting and creative things to expand their franchise. They own the mortgage market on the West Coast.
So they were doing all the right things. There was no obvious problem we could see, aside from the Fed continuing to raise interest rates. That didn't seem to be a big problem, so we kept adding to the stock, but questioning ourselves all the way. Recently, the stock hit $55.
That's quite a jump! It doesn't mean it's an appreciably different business at $55 than at $22. It just means that it's a different investment world out there. The interest rate environment changed from one where people feared interest rate escalation to one where they were expecting interest rates to keep going down.
Frankly, Washington Mutual is somewhat insulated from changes in interest rates, but that's how the market acts and that's all that matters because we can take advantage of it. We value guys are considered to be the bottom-fishers or the parasites. We're trying to bring things back into pricing equilibrium.
Can you give any other examples? Rockwell International (ROK). Last September, it went all the way down to $28 from $391/2 when they made an earnings shortfall announcement. Luckily, we had already done our work on it in and had it in hand. We had no idea the stock would go from $391/2 to $281/2 in two days. We started buying the stock and I think our average cost was $31. It went all the way up to $47, then recently sold down to $36 again, on worries of earnings announcements of other companies in the same industry. We added to our holdings at $36 and now it's back up to $42 again.