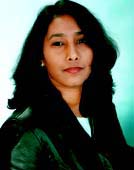 IN THIS ISSUE
I don't know about you, but I'm getting tired of waiting for this market to start showing signs of the next bull rally. And it's not just the when; it's also the what. As in, what's going to fuel it? The rally's going to show up one of these days; it always does, but there aren't even any signs of it showing up yet. At times like this, it's only natural to be tempted to dabble in market timing, which isn't advisable, as OppenheimerFunds' Laura Granger, the Working Money interview subject in this issue, will tell you, certainly without knowing what you're doing.
Granger may be right, but not all of us are fortunate enough to have invested in the Oppenheimer Emerging Growth Fund, which she heads and which has made promising profits for its investors. You've probably heard about the Microsoft employee who entrusted two Dean Witter brokers with $700,000, right? The poor investor ended up with a portfolio net asset value of $403.95. The other day, I heard about a high net worth individual who gave a Goldman Sachs broker $700 million to invest. What is he left with? Just $1 million. And there are others who have ended up in similar situations. I can't help but think these investors might have been able to do better on their own. Even if they didn't have the time to manage their portfolios on their own and instead left them in extremely conservative instruments such as bonds or certificates of deposit, they would have been much better off.
Of course, it's easy to comment about such situations without knowing the entire story. Market timing doesn't necessarily mean you have to be aggressive in your investing. In R.M. Sidewitz's article this issue, "The Lazy Man's Guide To Long-Term Investing," you'll learn a passive market timing technique conducive to the objective of the buy and hold investor. And if that's too passive for you, Dennis Peterson's "Resistance And Support" will show you the ins and outs of identifying these levels and profiting from them a handy tool when it comes to investing in a sideways market. A market in a trading range will at some point break out and start trending. Once this happens, you can start applying a different set of indicators, which is why we have included an article by Amy Wu, "A Taste Of The Big MACD," just in case.
You never know when the market is going to awaken from its long slumber and what it's going to take with it when it does. When it does wake up, it's going to take us on a ride and if you want to be part of it, the best you can do is stay alert.
Here's to smart investing!
Jayanthi Gopalakrishnan, Editor