Silver Lake Publishing
2025 Hyperion Avenue
Los Angeles, CA 90027
To order: www.silverlakepub.com
Author: Michael Stahl
252 pages, $19.95, 2000
ISBN: 1-56343-739-2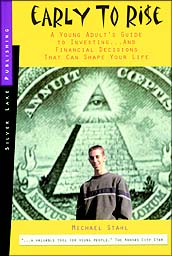 Early To Rise is the writing debut of one Michael Stahl. Like many other personal finance books, it gives an overview of the fundamentals of investing: mutual funds, investment clubs, and stocks. This book, however, is not directed toward your typical investor. Rather, as the back cover advises, it is a book that "everyone under 25 should read." And Michael Stahl would know a thing or two about that he's only 17 and already has a decade of investing behind him.
As a teenager myself, there are two things I believe your teen will experience while reading this book: a greater sense of the holistic structure of financial markets and, well, guilt. Lots of guilt. I mean, while Michael Stahl was investing in mutual funds, I still kept my earnings stuffed in a sock in my dresser. Stahl wields this guilt-inducing power effectively. He communicates frankly and thoroughly the intricacies of starting and maintaining a successful portfolio. More important, he imparts the fact that personal finance isn't too "grown-up" for teens, and that it is an area where teens should take initiative. Through interactive exercises like calculating your monthly expenses (he even reminds you to throw in the expense of your girlfriend or boyfriend) and picking good growth stocks and index funds, Stahl shows youngsters that gaining real independence which all teens seem to want, sooner or later isn't accomplished by obtaining a third nose ring, but by becoming active in their own finances.
Besides that brief period in sixth grade when kids invest in a simulated stock market (and at that point, our conception of successful trading is getting the stock certificates with the prettiest color designs), there typically is no set curriculum to teach the fundamentals of finance and investing. Early To Rise is effective because it assumes very little prior knowledge. Sure, we all hear that the Dow Jones Industrial Average (DJIA) has gone down by this and that, or that it was a tough day on Wall Street, but very few teens know what those statements actually mean. Stahl presents the market in terms of basic economics the supply and demand that push prices. He also categorizes the types of stocks: small-cap, cyclical, blue-chip, and so forth that all companies fall under, and with which you should learn to diversify.
INVESTMENT CLUBS 101
Aside from attacking the fundamentals, Early To Rise also provides a run-through on how to start an investment club. For those unfamiliar with the concept, an investment club is essentially a group of people who pool their funds and invest collectively. Think of it as a mutual fund where you're the manager. Investing can be a trying and tedious experience, but investment clubs can make it a fun social activity. Stahl includes numerous suggestions: club officers should be elected, a treasurer and accountant need to be found, contracts ought to be drawn up. Stahl even includes a full partnership agreement from an existing investment club to use as a guideline.
Although investment clubs can teach kids about responsibility and leadership, disagreement within the club can be disastrous. Inevitably, conflict will arise when real money is on the line and differences of opinion surface. Stahl states that a contractual agreement is a must to clarify exit and entrance fees for members and to parse the responsibilities of research and analysis of stocks.
RESEARCH, RESEARCH, RESEARCH
Once you know everything about how the market works, you'll need to know what to look for to invest in. Using this premise, author Stahl outlines how to pick stocks based on P/E ratios, dividend yields, and recent company news. Stahl also talks about the perks of being a stock owner: "Free lunch, a free movie, free movie posters, and a Flubber Beanie Baby." Yes, this book is definitely directed toward youngsters.
Early To Rise also emphasizes an adage, one particularly apt to young investors time is on your side. With that in mind, Stahl encourages teens with no major short-term debts to invest in riskier prospects. For starters, he also suggests mutual funds or Internet simulations to get your feet wet. Mutual funds allow you to watch someone else in action, and simulations let you experiment risk-free. A fairly lengthy appendix gives resources for further research, such as discount and online brokers, trader chat rooms, full-service brokers, and databases.
SUMMARY
Early To Rise is funny, informative, and enormously helpful for any young person. It not only gives the background from which a person can start investing, it also helps them get started. The next time your child reaches for that sock in the dresser, I suggest giving him or her this book. Sooner or later everyone will have to learn how to effectively manage money. A head start can only help.
-- Amy Wu, Editorial Intern