How do you decide which mutual fund will work best for you? With thousands of mutual funds to choose from these days, finding the right fund to invest in can be a daunting task. Take it one step further and try finding funds to combine to create an optimum portfolio, and it becomes even more challenging.

Putting together a 401(k) or an individual retirement account (IRA) involves putting together various funds to create a portfolio that meets your specific retirement objectives. In the same way, you can combine individual funds to create your own investment portfolio, one that's perfect for your needs. Although it may be possible to find the one fund that meets your objectives, it can be just as beneficial to spread your assets among various funds -- basically, not putting all your eggs into a single basket.


RESEARCHING YOUR OPTIONS
Selecting mutual funds isn't an easy task, considering the numerous options you have. On the other hand, having so many options allows you to pick and choose for most any criterion or concern you may have. As with any investment, you should be concerned about:

1) The amount of discretionary capital you can put aside.

Mutual funds have minimum deposit requirements. For traditional fund accounts, the minimum amount differs between lump-sum deposits and dollar cost averaging. So not only do you have to think about how to spread out capital among different funds, but you also have to think about how to make the deposit. Do you want to make one lump-sum deposit, or do you want to deposit a specific amount every month? (See "Reduce Your Risk Of Buying High" elsewhere in this issue.)

2) Setting realistic goals.

Anticipating triple-digit returns in one year is not realistic. Look at the historical performance of various fund types. What kind of returns can you reasonably expect from stock funds, bond funds, or foreign stock funds? You can expect realistic returns by using an index as a benchmark. Typically, the Standard & Poor's 500 index is used to anticipate returns for stock funds that can expect large growth, whereas the Russell 2000 is used for stocks with less capitalization.

3) The time it will take to meet the goals you set.

Knowing both the amount of initial capital and the anticipated rate of return will allow you to calculate the number of years it will take to achieve your investment goals.

4) The amount of risk you are willing to tolerate.

Are you the type of person who can live through short-term volatilities in the market, or do you prefer consistent, safer returns? Someone whose risk tolerance is high may be better suited to invest in riskier mutual funds, whereas a risk-averse individual should probably opt for less risky funds.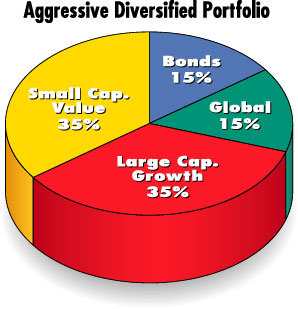 FIGURE 1: AGGRESSIVE PORTFOLIO. Here's a sample portfolio of different mutual fund types for a growth-oriented investor.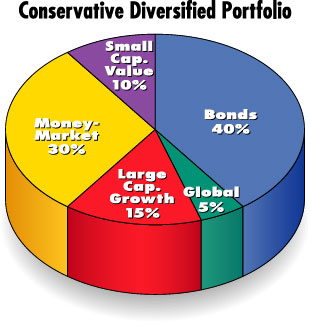 FIGURE 2: CONSERVATIVE PORTFOLIO. Here's a sample portfolio of different mutual fund types for a safety-oriented investor.
SELECTING FUNDS
Most funds can be divided into the major classes such as those listed in the sidebar, "Different mutual fund types." Each mutual fund is required to publish a prospectus, which is a report published by the company that operates the mutual fund, and have it available to prospective shareholders. A prospectus describes the fund's investment objectives; the fund's managers and their experience; the fees and charges associated with the fund; and policies and restrictions. It is your responsibility to go through it. Most of the information pertinent to your making a decision on selecting the fund can be found in the prospectus. The most important factors to consider while reading the prospectus are:

1) The investment objectives and risk tolerance of the fund. These should be similar to your own objectives and risk tolerance level.

2) The fees, commissions, and expenses you will have to bear for the duration of your investment. Although most fees are easy to identify in the prospectus, there are some that are not as visible. These include account maintenance fees and IRA fees.

3) The fund's performance, or its total return. Although history does not actually repeat itself, looking at both short- and long-term returns to get a sense of expected average annual returns is still a good idea.

4) The fund's performance in down markets. This will give you an idea of the risk level of the fund. Compare it to a relevant benchmark and similar funds and analyze its related performance in down markets.

5) The management team of the fund. Who manages the fund? How long has the manager been managing the fund? If the manager leaves, what is the likelihood of the fund continuing to perform the way it has been?


THE OPTIMAL PORTFOLIO
Typically, an individual's portfolio consists of stocks, bonds, and cash. If you are going to spread your assets over several mutual funds, you should consider:


A bond fund and


A domestic large company growth fund


If you want to take on additional risk, you might want to consider adding a global/international stock fund, small-company fund, or a specific sector fund, such as technology or biotechnology. If you wish to reduce the risk of the riskier investment, one option is to invest in an index fund such as a small-cap index fund.

However, if you are not open to the idea of taking on more risk, add a money market fund to your portfolio. Moreover, if you are in a high tax bracket, consider adding a municipal bond fund. Figure 1 displays a sample portfolio breakdown for an investor who is looking for growth and has a long time horizon. This portfolio includes some of the higher-risk investments, such as global and small-cap value stocks. Figure 2 shows a sample portfolio breakdown of someone who is mostly looking for safety and thus prefers low risk. In this example, a large portion of assets is allocated among bond funds and money markets.

DIFFERENT MUTUAL FUND TYPES
Mutual funds come in all shapes and sizes, all kinds covering all criteria. Here's just a taste of what you should be looking for:

Money market funds -- These invest in short-term securities such as Treasury bills and other investments with fixed returns. Although not guaranteed, these funds maintain a net asset value of $1 per share. The rate of return on money market funds tends to fluctuate with interest rates, but in general they carry very little risk.

Fixed-income funds -- These invest primarily in US Treasury bonds. They tend to yield slightly higher returns than money market funds but with slightly more risk, although the amount of risk is still relatively low. The objective of these funds is to generate income.

Municipal bond funds -- These invest in bonds that are issued by a state, city, municipality, or revenue district. These have an advantage in that they are exempt from federal taxes. Some are exempt from state and local income taxes.

Equity funds -- These invest in a well-diversified group of stocks. The capital is divided among stocks and cash. Historically speaking, equity funds have greater potential for money growth over a long period than either money market funds or fixed-income funds. Equity funds can be further divided into:


Growth funds -- These invest in companies that show increasing earnings and revenue. Since these companies represent stable US blue-chip companies, the fund manager expects continued growth, even though prices are high.


Value funds -- These invest in companies that may not necessarily be performing well at the moment but are considered of value (or undervalued relative to their stock price), with potential for upward movement.


Growth and value funds can be subdivided into:


Small-cap funds -- These invest in smaller, faster-growing companies that typically have market capitalization of less than $1 billion.


Medium-cap funds -- These invest in medium-sized, growing companies with market capitalization between $1 billion to $5 billion.


Large-cap funds -- These invest in stable, growing companies with market capitalization of more than $5 billion.


Balanced mutual funds -- These invest in bonds, equities, and cash. The objective of these funds is to provide growth and income.

Global/international funds -- These invest in companies from around the world (they can include US stocks). These types of mutual funds carry a higher risk because of unstable political conditions or foreign currency fluctuations.


DIVERSIFY, DIVERSIFY
The percentage of your capital that should be invested in a certain type of fund at a given time depends on your time horizon. Investors looking to make large gains will want to put the largest percentage of their investment into equity funds, with a relatively small percentage in money market or bond funds. Those looking to protect their capital, on the other hand, will place a greater emphasis on money market funds and bond funds. Once more, the percentage you allocate to each of these types of funds depends on your investment objectives and risk tolerance.

True, you could try to find one fund that meets your financial objectives, but if you want to spread out your capital among specialized funds, stick with three to five funds. Anything beyond that becomes too expensive, a nuisance when it comes to capital-gains taxes, and may not bring you higher returns, anyway.