Investing exposes you to an element of risk. There is no such thing as a risk-free investment, but there are methods you can use to reduce the risks involved in investing. The amount of risk you take depends on your temperament, which can range from ultraconservative to daredevil. If your investment temperament falls somewhere in between (as most of ours do), you might want to consider the market index certificate of deposit (CD). Investing in this type of vehicle gives you the opportunity to take advantage of stock market returns without the risk of losing your initial investment.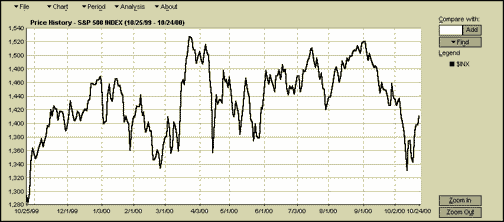 FIGURE 1: S&P 500 INDEX. The performance of the S&P 500 index wasn't stellar during this period, but you still would have earned a 9% return on a market index CD that measured against this index over a one-year period.
The market index CD operates in a similar fashion as traditional CDs that are offered by banks or savings and loan institutions. You deposit an amount into the CD that should be equal to or greater than the minimum requirement, and the bank agrees to pay you a return. The difference between a traditional CD and a market index CD is in the return. The market index CD is keyed with a specific stock market index, so your return will depend upon the return generated by that specific index. Most institutions offer the market index CD against the Standard & Poor's 500, but you can find some that use other indexes; Golden Stream Securities of Houston, TX, offers market index CDs against the CBOE Internet Index, for example. Golden Stream Securities' CDs are for five- to 10-year terms, although they may be callable -- meaning that the bank has the right to call your CD on predetermined dates. If the CD is called, your investment will be returned to you with interest.
The advantage of investing in these type of instruments is that they are FDIC-insured for up to $100,000 per investor. You can enjoy the returns of the broader stock market indexes such as the S&P 500, and even if the index has generated a negative return at the time of maturity, you can still get your initial investment back. This could be a disadvantage, if you consider the time value of money. You could have placed this initial investment in a savings account and earned a modest interest.
There are other factors you must keep in mind. First, market index CDs have a maturity date, and you are required to hold them until maturity. If you redeem the CD beforehand, you will have to pay a penalty, which may eat up your returns. Besides the penalty, your CD will be redeemed at market value, which could be less than your original investment. In addition, you are not locked into a consistent return; when you walk into a bank, you can see various types of CDs listed with their percentage returns and yields. Then, of course, there is the risk of incorrect timing. Suppose you redeemed your CD at maturity because the specific index was not performing well. It is possible that after redemption, the specific index that the CD was indexed against enjoyed a nice upward ride.
The minimum investment required for an index CD varies by institution, ranging from $5,000 to $25,000. Some require less if it is for an Individual Retirement Account (IRA).
UNCOMMONPLACE
At present, market index CDs are not commonplace; few banks and credit unions offer them. Janney Montgomery Scott is one institution that offers callable market index CDs; it requires a minimum investment of $5,000 or $2,000 for retirement accounts and is offered against the S&P 500. Since it is callable, the bank has the right to call the CD on any predetermined date. If it gets called, your initial investment will be returned to you plus any interest, which is set at a predetermined rate.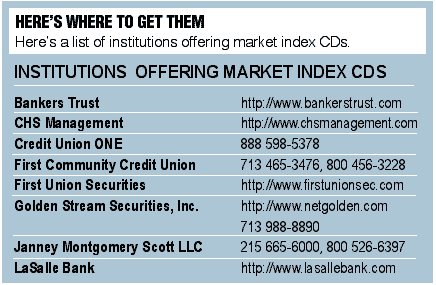 Although there are no load fees associated with the CD, you are subject to a penalty in the event of early liquidation. You are also not guaranteed your initial investment if you liquidate prior to maturity. If the value of your investment is less than the original value at the time of liquidation, you will only receive the current value less the penalty.
Just as with any investment, you cannot avoid taxes. In the case of Janney Montgomery's callable market index CD, investors must declare 6% of income in their taxes. This will be taxed as ordinary income.
Are market index CDs a worthwhile investment? Suppose you invested $5,000 in one that was measured against the S&P 500. A chart measuring the performance of the S&P 500 between October 1999 and October 2000 can be seen in Figure 1. It didn't exactly have the best year, but you would still have earned a 9% return.
CONCLUSION
Although considered safe investments, market index CDs do contain an element of risk. If you fall into the ultra-conservative investor category, these may not be ideal instruments; nor are they ideal if you enjoy taking risks. However, if you fall in between these two extremes, market index CDs may give you the satisfaction of knowing that your investment is not going to drop in value.