WHAT WOULD I HAVE DONE?
Hindsight being 20/20, I can map out a theory and match it with the chart action. Most traders do some sort of stock screening in order to find viable stocks for their portfolio. Some of the screens are for unusual volume, highs and lows of various sorts, or moving average crossovers and other technical indicators, to name a few. I used a "largest percent gain" screener that lists the stocks with the highest gains for the day. I assume I overlooked this stock because something else looked better whenever it appeared on the screen. So to notice this stock, I would have had to start with a 52-week high screen. That would have caught this stock when it broke out above $4. On looking at the chart, I would have seen the high volume on the breakout and the completion of the bowl pattern. From there I would have checked the fundamentals and seen that the company had just turned a profit and was expanding to include gyms. If I decided to buy, the next step would have been setting up the trade.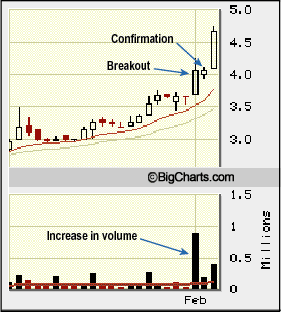 FIGURE 4: NTRI, A CLOSE-UP OF THE BREAKOUT
For a bowl-breakout pattern, you would buy after the stock closes above the breakout point and confirms the breakout. This occurred on the second day after NTRI closed above $4 (Figure 4). I would have bought in on the next day if the stock had continued rising.
Once in, I would place a stop, a generic 8% trailing one or customize one for NTRI. That would give me a conservative 40 cents for the 8% stop, or a more generous 65 cents for a stop that is larger than the largest single-day's trading range, keeping me from getting stopped out by daily noise. Another possible stop based on the chart pattern would be below the breakout point of $4. Finally, I would set my target at $6; the bowl pattern had formed on a base at $2 and broken out at $4 for a depth of $2. I would look for a $2 gain from the breakout point of $4. Once past $6, I would tighten my stop considerably or just move it up to 6.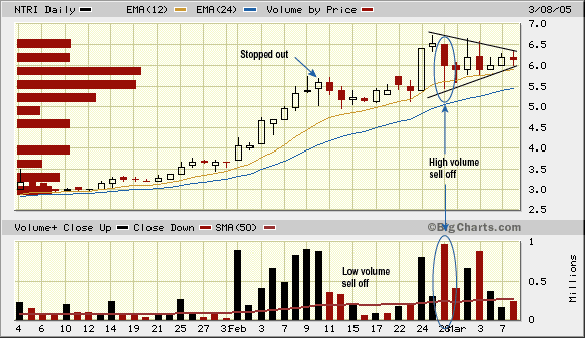 FIGURE 5: NTRI two-month chart following the 52-week breakout. The volume by price bars show heavy trading as the stock approaches $6.
So, once I decided what I would have done, I checked to see what NTRI actually did. It continued to rise until March (Figure 5), when it consolidated. I would have been stopped out around $5 using any of the first two methods I mentioned. So buying at $4.10 and selling, at worst, at $5 would have been about a 25% gain. But this would have been a low-volume selloff, volume being indicative of intent, and there wasn't much power to this price drop. In my list of the top 10 stocks, I included information on institutional ownership, this being mutual funds, money managers, and other large buyers and sellers, or block traders. Usually, it's these buyers that cause stock prices to increase at large and continual rates. The amount of NTRI stock owned by institutions started 2005 at zero and ended at 66%. So the low-volume selloff indicated that institutional buyers weren't selling and expected the stock to continue to rise.
Returning to the stop, if I'd acted on my third option and placed the stop below the $4 level, I would have stayed in the trade and sold later on at the beginning of March. This time the stock dropped on high volume when it hit $6.50 -- 50 cents past my $6 target. That would have been the right place to sell based on the bowl pattern, and that seems to be what a lot of people did.
I also took into consideration what the market was doing at the time. From early March, when I theoretically sold, to mid-April, the Dow Jones Industrial Average (DJIA) dropped almost 1,000 points from about 11,000 down to 10,000. It would have taken some aggressive trading to buy back into the stock. NTRI hit a new high on April 7, but the big upward break came on April 26 when NTRI gapped up, opening at $8.50 before closing at another 52-week high of $7.14. This was on huge volume and would have been the safest time to buy back. The DJIA was also rising from a severely oversold position, so I would have continued trading the stock, with the next big consolidation in August, then another in September.
But wait a minute: I could have bought NTRI on the first breakout at $4 and held it until the end of the year. Was there any way I could have known to do that?
WHAT WOULD HAVE KEPT ME IN?
To have held this stock through all the ups and downs, I would have had to be a value or growth investor. I would have checked the fundamentals on their quarterly reports, not the day-to-day stock price or chart patterns. The catch is that most value investors wouldn't buy what was then a thinly traded stock under $5. But assuming NutriSystems came to my attention, I would have looked more closely at its fundamentals. One approach is outlined by Pat Dorsey, director of stock analysis for Morningstar in his book The Five Rules For Successful Stock Investing. His five rules are:
1. Increasing cash flow

2. Increasing sales (revenue)

3. Net margins > 15%

4. Return on equity (ROE) > 15%

5. Return on assets (ROA) > 7%