WHAT ARE STRATEGIC CLUES?
Strategic clues are actions that the company takes or events that occur in its environment that point to an upside potential. The actions might be the issuance of a patent, the entrance into a new market, or the launch of a new product. The environmental events could be the increase in demand for the company's products caused by war, nature, or demographics. What makes these clues strategic is that they are reported prior to the stock's launch. If they are unreported, they are insider information. If they are unsupported by post-launch fundamentals, they are simple tips or gut-feel. Since insider trading is illegal and gut-feel indefinable, I will restrict my discussion to those strategic clues that were reported and ultimately affected the company's fundamentals and its stock price.

AMPEX
A good example of an action-driven speculative play is Ampex (AMPX). Ampex is basically a patent holder. They hold hundreds of patents relating to digital photography. They produce nothing -- no chips, no cameras, no video equipment. The key to their success is getting producers to pay up. That often requires a trip to the courtroom.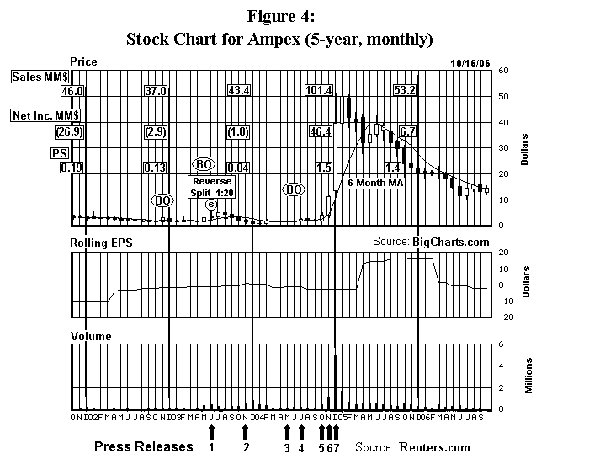 FIGURE 4: STOCK CHART FOR AMPEX (AMPX). Here you see what happened to the stock after a significant press release. Note the breakouts that took place coincidental with the releases.
Figure 4 illustrates the stock chart for AMPX along with a series of press releases and their dates. The content of the releases are summarized:

1 June 2003: Announces video agreement. Reverse stock split 1:20
2 November 2003: Delisted from AMEX
3 May 2004: License hard disk video; sues Sanyo over still-camera patent
4 July 2004: Sues Sony
5 October 2004: Licenses Sanyo and Canon; sues Kodak
6 November 2004: Settles with Sony
7 December 2004: Announces early debt retirement.
At the same time these press releases were occurring, the stock experienced several breakouts. The most notable breakouts occurred on May 2003, June 2004, and October 2004. Let's compare these to the press releases.
The May 2003 breakout occurred just prior to the June 2003 reverse stock split and the announcement of a video agreement. Since the split was probably known prior to its occurrence, the May breakout was probably in response. The announced video agreement was icing on the cake.
However, these two occurrences point out two important characteristics of Ampex. First, the video agreement suggests that there are valid and potentially profitable patents in their portfolio. Second, the reverse split illustrates a willingness of the company to defend its stock price. This second characteristic should not be underestimated, since many companies don't care about their stock price. In this regard, the reverse split is very instructive.
A reverse split has two sides to it. It first allows the company to meet the price requirements of a prestigious exchange listing. Unfortunately for Ampex, their split failed in that regard (see the press release of November 2003). Second, it makes the stock more tradable. Just prior to the split, AMPX was trading at $0.05 a share, too low of a price to bring traders to the post. Without traders, the stock would be very sluggish and sporadic.
The rest of the press releases and breakouts are fairly self-explanatory. As Ampex continued to sue and settle with other camera makers (Sanyo, Sony, Canon, and Kodak), it became clear that their patents were valid. Any time between May 2004 and October 2004 would have been a good speculative buy point. By then it was clear that Ampex was winning its court cases, and there would be an increased royalty stream in their future as more camera makers fell in line.