Over the past seven articles we have defined, analyzed, purchased, and sold the 10-bagger. All our work went toward one end: to reap the rewards of a 10-fold increase in the stock's price. It is a lofty goal, but is it realistic?

LOOKING AHEAD
To answer that question, we need to go beyond the certainty of hindsight and venture into the probabilities of foresight. Buying stock is always about the future, which is always about uncertainty, which takes us into the realm of probabilities and statistics. It is here that we can predict the best, most likely, and worst outcomes of our 10-bag strategy.

When it comes to 10-baggers, we strive for the best. The best can make a poor man rich. Conversely, we should avoid the worst, which will make us poorer, or even worse, fearful. More often than not, we will achieve neither best nor worst. We will end up somewhere in the middle, but where is that middle? In this, our final 10-bagger installment, we will answer that question.

LINKING PAST TO FUTURE
All stock buys look toward the future, and all stock strategies are extrapolations. We hope what was will be, which is a leap of faith. What gives us the confidence to make that leap is a rigorous analysis of potential outcomes. While there are many potential outcomes, our analysis focuses on just three: the best, the worst, and the most likely.

The best outcome is that all our picks will be 10-baggers. The worst is that all our picks will be losers from the point of purchase. And the most likely is a reasonable portfolio of the best, the worst, and the in-betweens. It is this most likely outcome that will define the potential success or failure of our 10-bag strategy.

We can build this most likely outcome by combining what we know about 10-baggers with a weighted average analysis. However, it is important to note that what we know about 10-baggers is situational; it is different for different types of markets. In a bull market there will be more 10-baggers, more advancers, and fewer decliners. A bearish market will provide a very different ratio of 10-baggers, advancers, and decliners. The example given here is based on the market conditions that were in effect at the time the study began (2006).

While our goal is to catch a string of 10-baggers, at a minimum, we want to do no harm. Since the stock market provides, over the long term, a 12% return, our 10-bag portfolio should offer an average return that is between the market average (12%) and the typical annual return of a 10-bagger (116%).

THE BEST AND WORST
We start our analysis with some reasonable assumptions:

1 The market will continue to perform as it did when we gathered our data. In this case, it was a flat market.
2 We will sell when the stock reaches its 10-bagger point.
3 Prior to its 10-bagger point, we will sell when it trips a MACD sell signal.
4 All our signals will be based on monthly chart data.

Any or all of these assumptions can be modified to fit your trading strategy. For instance, you could choose to buy using the monthly chart but sell using the weekly chart. You could choose to sell at the 10-bag point only after the point has been crossed in the hopes of capitalizing on a 20-, 30-, or 50-bagger. These are assumptions, which means, with the exception of #1, they are strategic elements that you control.

Let's develop a weighted 10-bag portfolio using these assumptions. First, the best-case scenario:

Best case: All of our picks are 10-baggers yielding a typical annual return of 116%.

100% of the portfolio x 116 annual return (1.00 x 116%) = 116% annual portfolio return

In the best case, if every one of our stock picks were 10-baggers, our annual return on our total portfolio would be 116%, well above our minimum goal of 12%.

Let's look at the worst case. In this case, we anticipate that the stock will decline from our buy point and trigger a moving average convergence/divergence (MACD) sell signal. Our analysis of the MACD sell signal indicated that the 10-bagger's price declines as much as 40% before it is triggered. We'll use this 40% for our analysis:

Worst case: All of our picks will immediately decline yielding an annual return of -40%.

100% of the portfolio x -40 annual return (1.00 x -40%) = -40% annual portfolio return

MOST LIKELY SCENARIO
The best and worst cases are easy to calculate, but as Figure 1 illustrates, determining the most likely is much more complex. The complexity arises from the various levels of performance observed in the stock market ranging from the typical 10-bagger all the way down to bankruptcy. So for illustrative purposes, we need to limit our analysis in order to make the calculation manageable.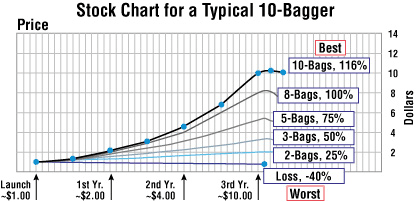 FIGURE 1: THE TYPICAL 10-BAGGER