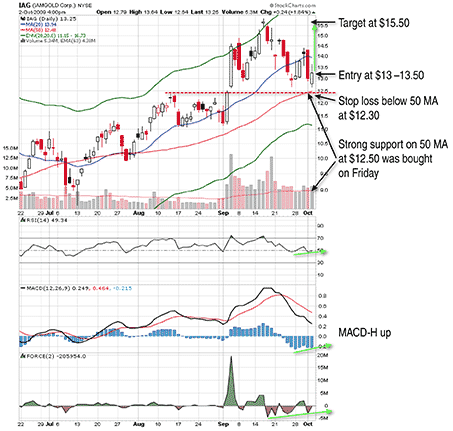 FIGURE 3: ANALYZING GOLD MINING STOCKS
My initial trading plan was to buy in the $13--13.50 area, with a stop at $12.30 and a target of $15.50 (Figure 4). This meant a 3.6:1 reward to risk ratio, a very attractive number.
FIGURE 4: THE TRADING PLAN
I opened my position on Monday at $13.38, which turned out to be almost the low of the day. On Thursday, IAG almost reached my target, but I decided to raise it to $17. On Friday, I had a business meeting and could not monitor this position. I decided to use the daily pivot point as my stop level, and it was hit when the stock sagged to 14.
TRADE REVIEW
By Alexander Elder: All major factors in the economy are interrelated, reminding us that individual stocks do not exist in a vacuum. Intermarket relationships are hugely important, and Sergey was quite right to begin his analysis with the overview of interest rates, commodities, and forex. Let us remember to tip our hats to John J. Murphy, whose book Intermarket Technical Analysis broke the monopoly of fundamental analysts and showed technicians how to do intermarket research.
On weekends I review all Spike picks and select one stock to piggyback in the week ahead. On the weekend of Sergey's IAG pick, I was hugely bullish on gold and already held gold futures. A gold stock immediately drew my attention. The technical reasons why IAG appeared especially attractive are highlighted in Figure 5.