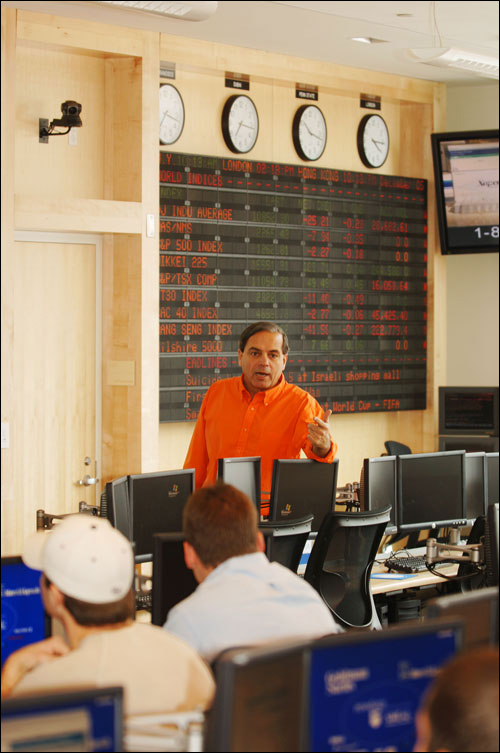 THE TRADING ROOM AT PENN STATE
University of Illinois
http://www.illinois.edu
Earn a bachelor's degree or a master's in finance; a master's degree in financial engineering; or a doctorate in finance at the University of Illinois at Urbana-Champaign. Students can take advantage of the visiting speakers' seminar series (speaking at the time of this writing was Andrew Lo of MIT); the business library; the business and trading labs; and a student-managed fund that manages real money for real clients following guidelines from the CFA Institute.
Trading lab
http://www.business.illinois.edu/finance/mil.aspx
The Margolis Market Information Lab (MIL) and the Infinium Trading Lab (TL) at the College of Business, University of Illinois, are equipped with analytical software platforms such as Morningstar Direct, Bloomberg Professional, Capital IQ, and Crystal Ball. Part of the lab's mission is to integrate the research and analytical software applications into the curriculum.
Northern Michigan University
http://www.nmu.edu/
Northern Michigan University's College of Business offers a relatively affordable master's degree in business administration (MBA). It also offers a bachelor's program in finance: Choose from programs to prepare you for the Series 7 exam, CFP, or CFA exams, or choose the personal financial planning major.
Trading lab
http://webb.nmu.edu/Colleges/Business/SiteSections/Programs/Majors/FinancialTradingRoom.shtml
The newly developed trading lab at NMU gives students an opportunity to learn to trade in stocks and bonds as well as study market trends, company performance, and national economies. Continuously fed stock quotes and other financial information and computers equipped with industry-standard software provide a setting that mimics a Wall Street stockbroker's office. The lab has 24 student stations and one faculty station. The lab complements the Superior Fund, a student-managed investment fund.
When not used by students, the trading lab is available to the local business and educational community for instructional and training purposes.
Florida Atlantic University
http://www.fau.edu/
Florida Atlantic University's College of Business in Boca Raton set out to bridge the gap between classroom learning and business practice when they built their trading, research, and teaching facility. The FAU trading room (http://business.fau.edu/index.php?submenu=trading_room&src=gendocs&ref=tradingroom_technology&category=TradingRoom) offers market simulation and trading courses, and features two types of trading software applications: eSignal Pro and Financial Trading System (FTS).
The eSignal trading platform is a trading analytics and market data platform used by professional traders. The FTS trading platform combines both academic and real-world trading applications to provide a practical approach using real-time data.
The trading room has three areas. On the first floor, there are 25 computer workstations; a ticker with live market data; applications such as Bloomberg, Telerate, and FTS Reuters; and an LCD panel with a satellite television feed make up the equipment. On the second floor, you'll find 24 additional dual-screen computer workstations, an audio and video connection to the trading room below, and an overlook window. A server room located behind the main training room permits faculty to instantly deploy specialized desktops to meet the needs of a variety of business disciplines.
These facilities were designed to help students learn financial market principles and develop trading techniques. Research databases allow historical analysis and backtesting, while live datafeeds support strategic decisions. Students engage in realistic case exercises and simulations.
Trader Talk Series
http://business.fau.edu/index.php?submenu=trading_room&src=gendocs&ref=tradingroom_seminars_events&category=TradingRoom
In addition to hanging out at the trading room, budding traders will want to take advantage of the talk and advice bestowed on students by the visiting financial professionals in the FAU Traders Talk Series ("Bringing Markets to Life"). Speakers include traders, hedge fund managers, and analysts.
Students learn about trading techniques and strategies used to make money; tactics of successful traders; takes on the current market outlook from active traders; and the latest risk-management techniques used by traders today.
On the list of topics to be addressed in the Spring 2010 FAU Trader Talk Series is: technical analysis & trading, and fundamental analysis & trading.
Texas State University
http://www.txstate.edu
The Department of Finance and Economics at Texas State University-San Marcos will put you on the path to a bachelor or master's degree in business administration with majors in both finance and economics, as well as a bachelor's with a major in economics. Certification programs in certified financial planning are also offered.
Trading lab
http://fin-eco.mccoy.txstate.edu/about/tradinglab.html
The T. Paul Bulmahn Research and Trading Lab offers 30 dual-monitor workstations for students. Each workstation has a full complement of software, including Crystal Ball, a predictive modeling software package, and FactSet. The lab also has two Reuters terminals and one Bloomberg terminal, on which students can reserve time. LCD screens and a 10-foot LED ticker display financial market information and headlines. Several classes are taught in the lab: econometrics, economics, financial information technologies, and a student-managed investment fund.
Incidentally, the University of Texas at Austin (http://www.utexas.edu) also has a trading lab and can also boast about being one of the first college campuses in the country to have one. The EDS Financial Trading and Technology Center in the McCombs School of Business (http://www.edscenter.utexas.edu/), installed way back in 1996 initially as a simulation trading room and technology showcase, also led the way for other study centers in the school that bring the lessons of the outside world onto campus, including a real estate finance center and an energy finance center, as well as others.
At the EDS center, audiovisual and distance learning systems are integrated into a three-room complex. Faculty and students have access to real-time datafeeds including Bloomberg, FactSet, Capital IQ, Morningstar, and Argus. These dataflows are used by undergraduate and graduate students in a variety of classes ranging from finance classes on portfolio management to information-impact management courses on the financial applications of information technology. The center also supports teaching, research, and community outreach programs.
Golden Gate University
http://www.ggu.edu
Graduate Certificate in Technical Market Analysis
Over on the West Coast, Golden Gate University (GGU) in San Francisco has been offering courses in technical analysis for more than 30 years -- at a time when the term was barely known and hardly embraced. In 1998, GGU became the first university to offer a certificate in technical market analysis. This certificate for prospective traders, brokers, advisors, money managers, portfolio managers, and other investment professionals encompasses five courses and can be completed in one to one and a half years.
The curriculum prepares the student for either the Chartered Market Technician (CMT) examination or the Chartered Financial Technicians (CFTe) examination.
Want to pursue this line of study without the commute? Some courses are also offered through GGU's CyberCampus.
Certificate courses can be combined with degree programs at the university. Prerequisites must be met or a waiver granted by the department chair before students may take the courses in the certificate program.
Henry Pruden, PhD (interviewed in the September 2007 Technical Analysis of STOCKS & COMMODITIES magazine (http://www.traders.com/Documentation/FEEDbk_docs/2007/09/Interview/interview.html), professor of business and executive director of the Institute of Technical Market Analysis (ITMA) at GGU, has been teaching for more than 30 years and trading for more than 20. He is also president of the Technical Securities Analysts Association of San Francisco. Pruden says of the program: "Golden Gate University is recognized around the globe as a pioneer and a leader in technical analysis education for traders. Starting in 1976 with the first-ever graduate course in technical analysis at an accredited university, the curriculum grew to meet the needs of practitioner-students. Courses and instructors were added in systems building and testing, trader psychology, and behavioral finance. Moreover, the Wyckoff method of technical trading is alive and well at Golden Gate."
Sample courses in GGU's graduate certificate program in technical market analysis:
Technical Analysis of Securities
Wyckoff Method I & II
Technical Analysis of Trading: Strategy and Implementation
Behavioral Finance
Systems Building & Testing
GGU also offers a master's of science degree in finance. It covers corporate finance, investments, and capital markets, plus courses in financial analysis and financial modeling to build on the student's background in accounting and computer applications.