SMOOTHING THE PUT/CALL RATIO
The put/call line can be very erratic, with moves that show inconsistency. That is why many traders will plot a 10-day moving average (MA) alongside the ratio. This helps smooth out the raw data, making it easier to read the signals given by this indicator. Figure 2 displays the 10-day MA of the put/call ratio in the lower window. Above that is the daily chart of the Standard & Poor's 500 (upper window).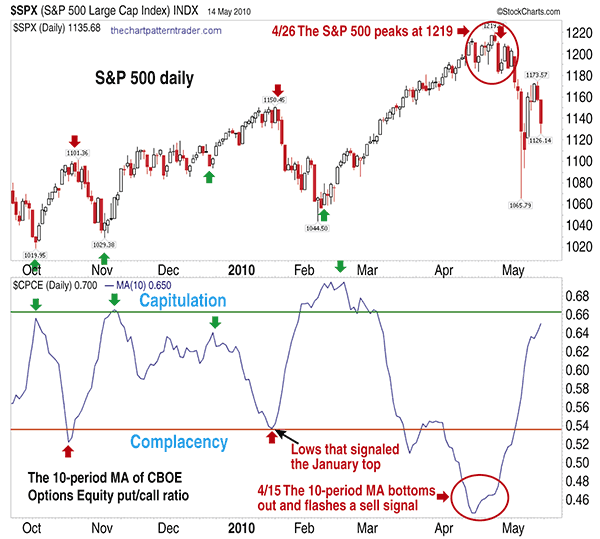 FIGURE 2: $SPX DAILY, $CPCE DAILY. The 10-period MA of the put/call ratio usually turns before the market does, forewarning traders of an impending reversal. By monitoring the put/call ratio, we can determine the amount of bullish or bearish sentiment. Low readings mark overbought conditions and levels of complacency. High readings mark oversold conditions and levels of capitulation.
The put/call ratio is designed to gauge the overall mood of the market. The 10-day MA of the put/call ratio seeks to gauge the prevailing bullish or bearish sentiment in the market. Figure 2 shows that the 10-day MA made extreme lows in April, well below the lows that signaled the January top. Note how each of the red and green arrows correspond with a turning point on the S&P 500. The 10-period MA of the put/call ratio has a tendency to turn before or with the market.
This can be seen with the most recent turn that was made in April. The 10-day MA turned back up after hitting multiyear lows on April 15, 2010, eight sessions prior to the peak that formed on the S&P 500 on April 26 (Figure 2). Shortly after the 10-period moving average bottomed out in April 2010 and began to rise, the S&P 500 peaked, signaling the start of a new downtrend.
Figure 3 showcases the 10-period MA of the put/call ratio plotted behind the S&P 500 daily chart. The first basic observation is that the 10-period MA has formed channel lines during both declining and advancing markets. The extreme readings made in late 2008 and early 2009 formed the boundaries of a new falling channel.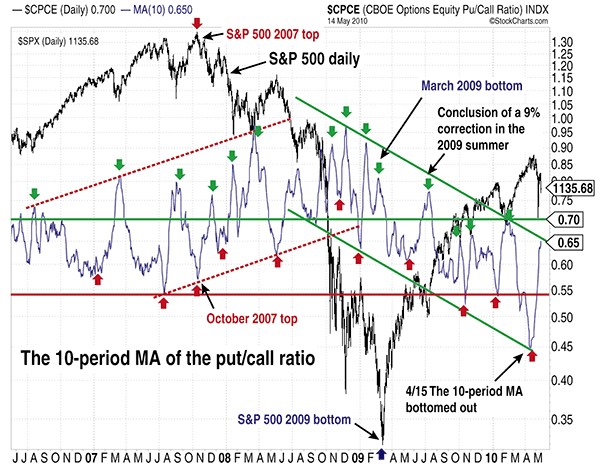 FIGURE 3: $CPCE DAILY, $SPX DAILY. The 10-period MA of the put/call ratio began to move in a falling price channel just prior to its bottom in March 2009. A breakout from the channel may begin a new uptrend, suggesting a major correction in the stock market. The green and red arrowheads mark the turning points in the market, which traders can take advantage of for short-term trading purposes.