After this phase is exhausted, the market offers a reprieve with a recovery effort. A small number of investors believe that the decline has run its course, and the recovery will be created by their buying efforts. This recovery is wave 4. Unfortunately for these buyers, momentum is still down and the recovery proves temporary.

The decline resumes, allowing the slowpokes who missed the last down leg to get involved. This final phase of the decline is wave 5. It continues only as long as new participants are willing to get involved in what is now a well-established downtrend.

Most investors believe that the downtrend will continue, leading to a very high level of bearish sentiment. The move has exhausted itself. The early arrivals are already invested, as are the trend riders and latecomers. Absent any new participants, the downtrend finishes and a new uptrend begins, following the exact same progression.

Why does this progression keep repeating? Because it's human nature. The headlines change, monetary policy changes, most things change; human nature, however, does not. The Elliott wave theory is based on determining the market's location within this ever-repeating five-phase pattern. If that can be determined, then we will know exactly where the market is headed.

This is more than just some theoretical mumbo-jumbo. Look at a chart of the 2007 to 2009 decline in the Dow Jones Industrial Average (DJIA) in Figure 1 to see how this five-wave progression looks in the real world.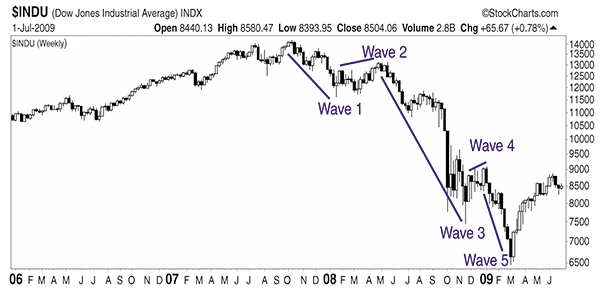 FIGURE 1: FIVE-WAVE DECLINE. The Dow Jones Industrial Average followed a textbook five-wave Elliott wave pattern during the 2007–09 bear market decline.