As I write this, it is mid-September 2012 and the markets are reaching for all-time highs again (for the third time since 2000). Also reaching new highs are the prices of gas, food, and many everyday living necessities. With the indexes at these levels, why does it seem like purchasing value is going down? The talking heads on the business news attribute this to inflation. Does this explain why markets are higher in dollar value and why they seem to be worth less in purchasing value?

ADJUSTING FOR INFLATION
To answer these questions, I looked at the markets with an inflation adjustment. This is a simple matter of entering monthly price data for the index or security of choice. Here I used the Standard & Poor's 500 series back to 1871. The data for the CPI (Consumer Price Index-All Urban Consumers) is also required. The CPI data is available from the US Bureau of Labor Statistics.

The spreadsheet (Figure 1) consists of six columns. The first column is the date field. The second is the monthly closing price for the security series being adjusted for Inflation (S&P 500). The third column is the monthly CPI figure. In the following (fourth) column, the return for the month-to-month CPI is calculated as
((this month's CPI minus last month's CPI) divided by
((this month's CPI plus last month's CPI) divided by 2)) 

"((C3-C2)/((C3+C2)/2))"
The cumulative rate of inflation is calculated in the fifth column by entering 1 in cell E3 and the formula E3 * (1 + D4) in column E4. Copy this formula down to the end of your data series.
The next step, in column F, is to multiply the monthly close (column B) by the cumulative rate of inflation (column E). Again, copy this down to the end of the data series. Your workbook should look like what you see in Figure 1.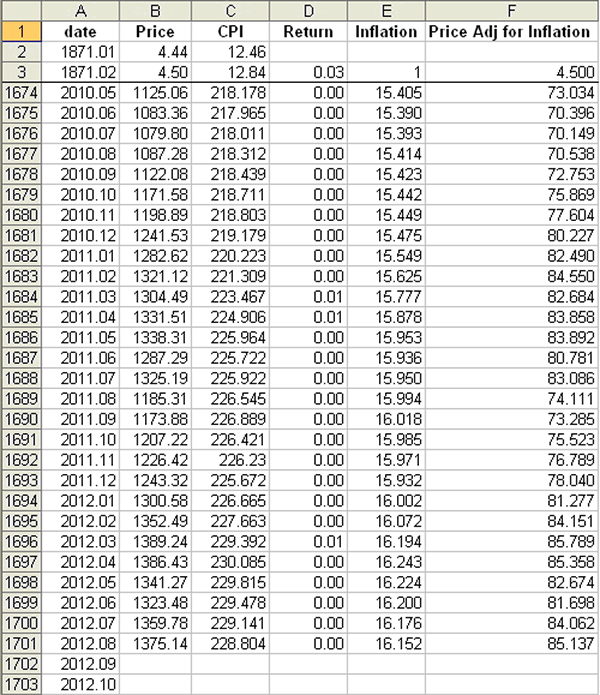 FIGURE 1: PRICE ADJUSTED FOR INFLATION. Here you see how you can adjust price for inflation on an Excel spreadsheet.
If you plot columns A (date), B (price), and F (inflation adjustment), you can compare the original price series for monthly closing prices to the data series that was adjusted for inflation over the same period of time.