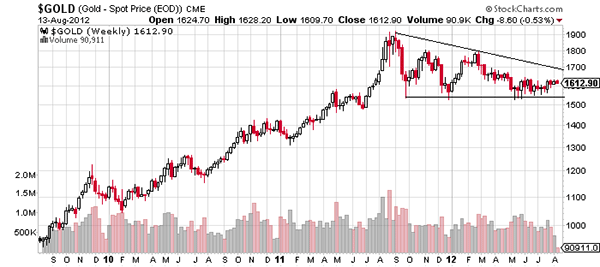 FIGURE 2: SPOT PRICE OF GOLD, WEEKLY. The spot price of gold formed a descending right triangle beginning in August 2011 that currently continues and looks close to a downward breakout.
This formation is also a robust one, and like the ascending triangle, its occurrence isn't limited to the length and duration of the trend. In addition, the volume decreases with the trading range, and like a coiled spring suddenly being released, increases as the support level is broken.
TARGET PRICE
No one can predict the length of a breakout, but a general calculation is used often by analysts to give some kind of a reasonable target price after a breakout occurs, especially if there is no previously established resistance level. The target price for a breakout from an ascending triangle pattern would be:
Subtract the highest price at the base of the triangle from the lowest price at the beginning of the hypotenuse
Add the result to the high price at the horizontal base.
This method would just be reversed for a descending triangle.
Another way to do this for people who like working with geometric shapes and rulers would be to invert the perpendicular around the base line. Whichever way you choose to use it, you will end up with similar results.
The price target for a breakout in the example for $GOLD would be as seen in Figure 3:
Subtract the price at the base of the triangle ($1,533) from the price at the beginning of the hypotenuse ($1,900). This equals $367 [$1,533 - $1,900 = $367].
Subtract the result ($367) from the price at the base of the triangle to arrive at a target price of $1,166 [$1,533 - $367 = $1,166].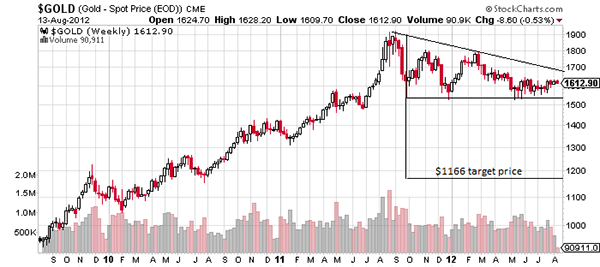 FIGURE 3: MEASURING PRICE TARGETS. In the event of a downward breakout, a price target of $1166 has been calculated, which happens to be very close to a previous support level around $1,200 reached in November 2009 and May through August 2010.