RISK/REWARD RATIO
How much you risk on an order in relation to its profitability should be decided beforehand and will depend largely on your comfort level or tolerance for risk. Unfortunately, some traders use their gut instinct for deciding their risk tolerance level. A better way would be to find a quantitative approach such as the risk/reward ratio. Most professional investors use this latter approach. They calculate a ratio that compares the amount of money willing to be risked on an investment to the expected return on that investment (EROI). If the ratio is considered favorable, then the investment is worth entering.

Here's how the risk/reward ratio is calculated:

Risk/reward ratio = R: EROI

A 1:4 ratio shows that you stand to gain four times the amount you have risked investing, if the transaction moves in your favor. Optimal ratios can differ with different situations and strategies.

Say an investor is considering purchasing stock in company XYZ that currently has a market price of $15 per share. He is expecting the price of this stock to rise by $12 per share to $27 in the near future. He is also considering a stock purchase in company ABC that is currently $40 per share and he expects it to rise by $18 per share in about the same amount of time as XYZ. He has a $100,000 trading account and is willing to risk 2%, or $2,000, in one of these stocks. The stop for XYZ will be at 35% ($9.75) and for ABC it will be at 25% ($30). The risk/reward ratio for each of these companies is displayed in Figure 1.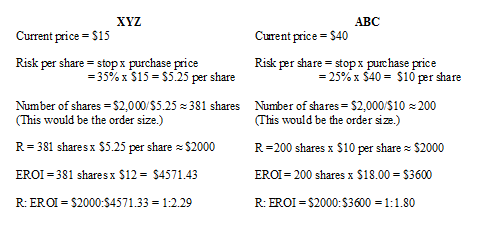 FIGURE 1: COMPARING RISK/REWARD RATIOS. Here, company XYZ has a risk/reward ratio of 1:2.29 and company ABC has a risk/reward ratio of 1:1.8.
In this case, the investor uses a risk/reward ratio of 1:2 or higher for investment consideration. Company XYZ qualifies for his consideration with a ratio of 1:2.29, whereas ABC falls short with a ratio of only 1:1.8. Notice that the XYZ stop is a higher percentage than that of ABC.
WHAT IS RISK?
For trading purposes, the risk component of the risk/reward ratio is the amount of cash that will be used to net a certain amount of gain, or profit. There are two types of risk -- external (market risk or systematic risk) of the entire market to advance or decline, and internal risk (unsystematic risk) of occurrences inside a company that affect the stock price independent of the market. It's always riskier to invest in volatile markets than in the smoother, less volatile ones because prices can have large ranges in short periods of time. Volatility can also affect where stops are placed. The three common measures of volatility are the beta, the standard deviation, and the Sharpe ratio.
RISE OF BETA
The beta is an expression of market risk based on historical data. The value given to a stock is the deviation of its price from the average price of a market benchmark representing a broad market, an industry, or a sector. Price deviations due to internal risk (unsystematic risk) that have nothing to do with the market are known as the alpha.
The benchmark, usually an index or another security, is considered to have a value of 1.0 and securities are given values that are usually above or below 1.0 indicating their volatility in relation to it. If a stock is given a beta of 0.75, it will most likely move only 75% up or down in relation to the movements of the benchmark. Conversely, a stock with a beta of 1.75 will move 175% in relation to each move of the market. If the market moved 1% for the day then the stock with a beta of 0.75 would only have moved 0.75%, whereas the stock with the beta of 1.75 will have moved 1.75%. Benchmark indexes can be chosen from any index that is relative to the investment you are considering. Some market indexes used as benchmarks for the beta are the NYSE Composite, S&P 500 for stocks, the NASDAQ composite for technical stocks, or JP Morgan Government Bond Index for bonds. It's always good to find out what index is being used.
Over time, the beta of a stock can change as its volatility changes. A disadvantage of the beta is that the information to create it is historical, which makes it a bad predictor of the future, and since it changes with a stock's movements, it can be unreliable at times as it might suddenly flip around. These drawbacks make the beta more useful for the short-term investor than those using longer time frames. Small-cap companies have a greater degree of volatility than large blue chips, and this is reflected in their betas. The beta of a stock can usually be found with online stock quotes or published investor information services.